Camp Encourage: A Heartwarming Journey of Giving Back

Rocktops Supports Camp Encourage: A Heartwarming Journey of Giving Back
At Rocktops, we take immense pride in participating in our community and supporting meaningful causes. One organization that has captured our hearts is Camp Encourage, dedicated to providing empowering experiences for youth of the autism spectrum. In 2022, we had the honor of sponsoring Camp Encourage, participating in their annual S'mores & Pours fundraiser. The event brought together community members and showcased the power of collaboration, partnered with celebrity designer Jennifer Bertrand, who graciously hosted the unforgettable evening.
One event highlight was our team's donation of a kitchen makeover for the silent auction. We had the privilege of working closely with the family of Darren Seaman-Reyes and Oscar Reyes from Parkville, who placed the highest bid. As devoted dads to three little boys, their kitchen held importance, as it's a space for preparing and enjoying family meals.
A Night to Remember
The S'mores & Pours fundraiser, hosted by Camp Encourage, was a night filled with joy, support, and connections. Rocktops proudly participated in this event, with several team members in attendance. The atmosphere was electric, with guests coming together to impact and create unforgettable memories positively.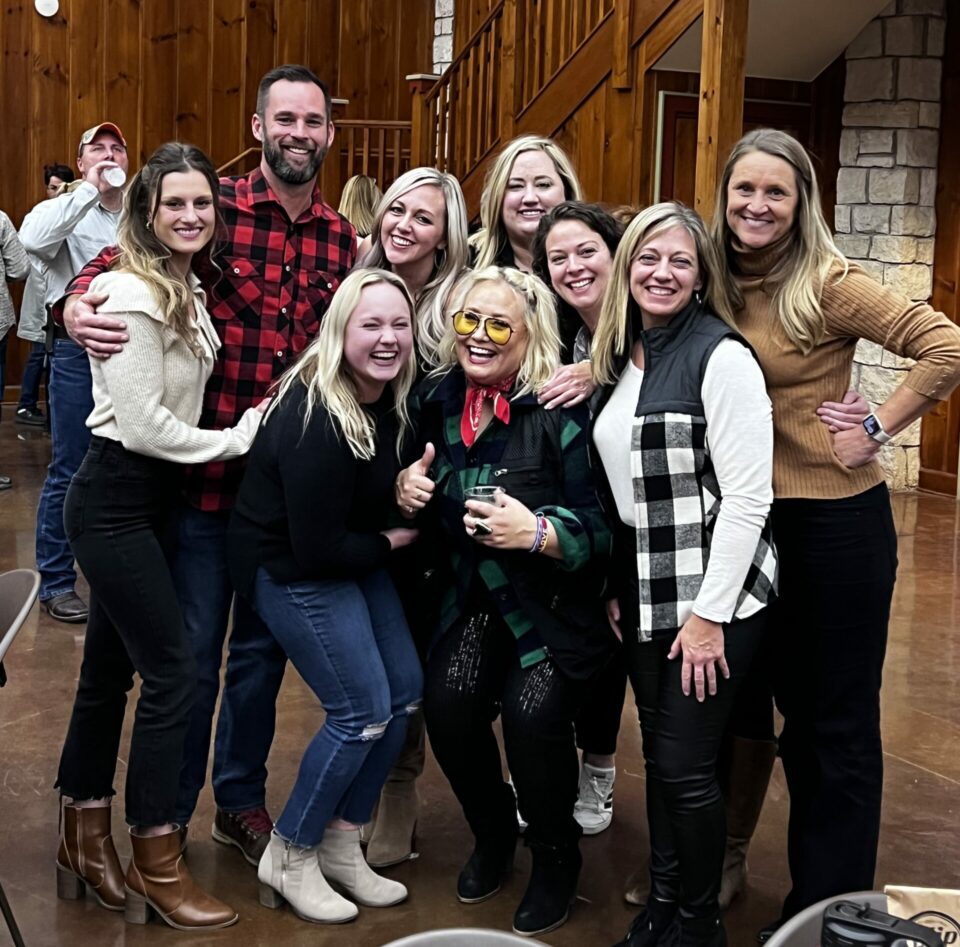 Giving Back Through a Kitchen Makeover
As part of our commitment to supporting Camp Encourage, we donated a kitchen makeover for the silent auction. This contribution aimed to raise funds for the organization while providing an incredible opportunity to remodel a family's living space. Working with Cambria, who generously donated the exquisite Quartz material. Legacy Flooring of Olathe donated a beautiful backsplash. Altogether, we created a truly remarkable auction item. Surprisingly, the response was overwhelming and raised an additional $6,000 for Camp Encourage.

Choosing Cambria Ironsbridge
Together with the Seamann-Reyes family, we converted their kitchen into a space that exuded warmth, beauty, and functionality. During their appointment with our rock experts, they chose Cambria Ironsbridge for their tops. A beautiful design that harmoniously blends liquid honey accents with patches of grays, whites, and creams. The result is a fusion of warm and cool tones, perfectly reflecting the family's vibrant spirit and love for creating cherished memories together.
Unmatched Excellence
The Seaman-Reyes family has found the perfect match with Cambria tops! With these superior surfaces, they can look forward to years of indulging in elaborate feasts, hearty meals, and late-night snacks, keeping up with the appetites of their three growing boys. Thanks to the exceptional hardness of quartz, surpassing that of granite or marble. Cambria provides a lifetime of worry-free service; for example, it's scratch and stain resistant. This is why the excellent performance of Cambria, specifically with its remarkable strength, durability, easy maintenance, and moisture resistance, holds such significance.
A Renewed Transformation
At Rocktops, giving back to the community holds a special place in our hearts. Partnering with Cambria and Legacy Flooring, we are honored to have played a role in their kitchen remodel. Most importantly, supporting a meaningful cause! We are incredibly grateful for the opportunity to support Camp Encourage's mission and make a positive difference in the lives of youth on the autism spectrum. We want to spread the word about this amazing organization. To learn more about Camp Encourage or get involved with their annual S'mores & Pours event, head over to www.campencourage.org. In conclusion, together, we can create a world where everyone feels empowered, valued, and included.