How to Clean Your Countertops

Washing our hands constantly, cleaning door handles, light switches, disinfecting frequently touched surfaces, it is a huge focus in today's world. It is crucial that we take protective measures to avoid the COVID-19 ( coronavirus.) It's imperative to know how to properly clean your countertops with correct products, based on what material you have in your kitchen to avoid any damages. 
Rocktops is here to help with any concerns one may have, a question we often get is "What are the best products to clean our granite countertops?" The correct answer to that is simply put, you don't really need a specific granite cleaner to get the job done. 
NATURAL STONE
However, we do recommend that you make sure your granite or natural stone countertop is sealed. To make sure you have a perfectly sealed countertop, leave a few drops of water on the surface if it beads up, your counters are sealed and you are all set! If after a few minutes the water has soaked into the granite, it is time to reseal the stone. It is important that your counters are sealed for it will soak up oils, spills, and stains; a well-sealed granite countertop is relatively impervious to bacteria. 
To clean, hot water and dish soap should be adequate for daily sanitizing. For a stronger disinfectant, mix together equal parts water and 91% isopropyl alcohol and spray onto your surface, allow it to sit for 3-5 minutes, then rinse with water and dry with a clean microfiber cloth.
We recommend avoiding the use of harsh or abrasive household cleaners such as: 
Windex should be avoided on any natural stone for it can degrade the sealer over time.
Acidic cleaners (like vinegar, lemon, lime)
Anything with ammonia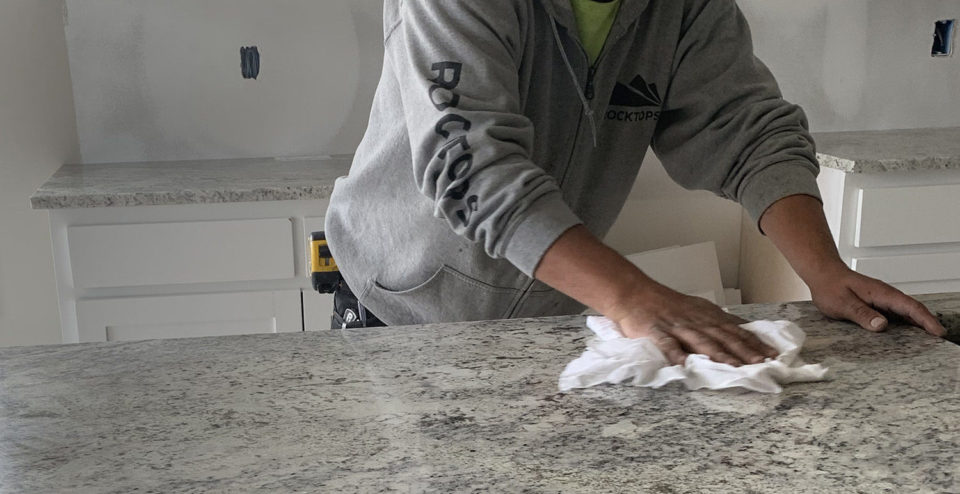 Frequent use of acidic substances will dull the granite and weaken the sealer; basically, the harsher the cleaner, the quicker the sealant will break down. We do highly recommend Aqua Mix Aqua Shield in between a dawn dish soap and water cleaning.

MAN-MADE SURFACES
For man-made surfaces like Quartz, cleaning is not as daunting for they are pretty low maintenance. Cleaning and disinfecting is a bit easier because it can tolerate casual exposure to milder alkaline cleaners such as diluted bleach. However, cleaners with a high-pH like oven cleaners and concentrated bleach can damage the surface.
Proper care and maintenance are quite essential if you are wanting to keep your countertops looking their very best. It is important to only get cleaning sprays or products that are made specifically to be used on quartz countertops. 
If you have any questions, feel free to ask us anytime you are not sure about a specific product when you are looking to deep clean it.

We want to encourage you to keep yourself informed as new information is released. The below links provide additional information regarding the coronavirus:
Our team will continue to monitor the situation and adhere to local and state recommendations.  We appreciate your support and patronage and look forward to a very successful installation!