Project Showcase: Jack Stack

Using textures throughout a space is a major trend for modern interior and can be used in a variety of ways. This tour is all about our remodeling of the legendary Jack Stack Barbecue here in Kansas City. It's a stunning job that we're excited to share! 
The results of this project are both classic and modern. The updated materials create a beautiful impression of elegance, beauty, and durability. Marble and quartz are timeless materials that can truly update a space—commercial or residential. 
Let's take a look at how this remodel modernized the aesthetic of Jack Stack Barbecue. This eye-catching upgrade is credited to Goebil Mitts Construction, interior designer Laura McCroskey, Restoration Hardware, Toto, and photographer Taylor Douglas.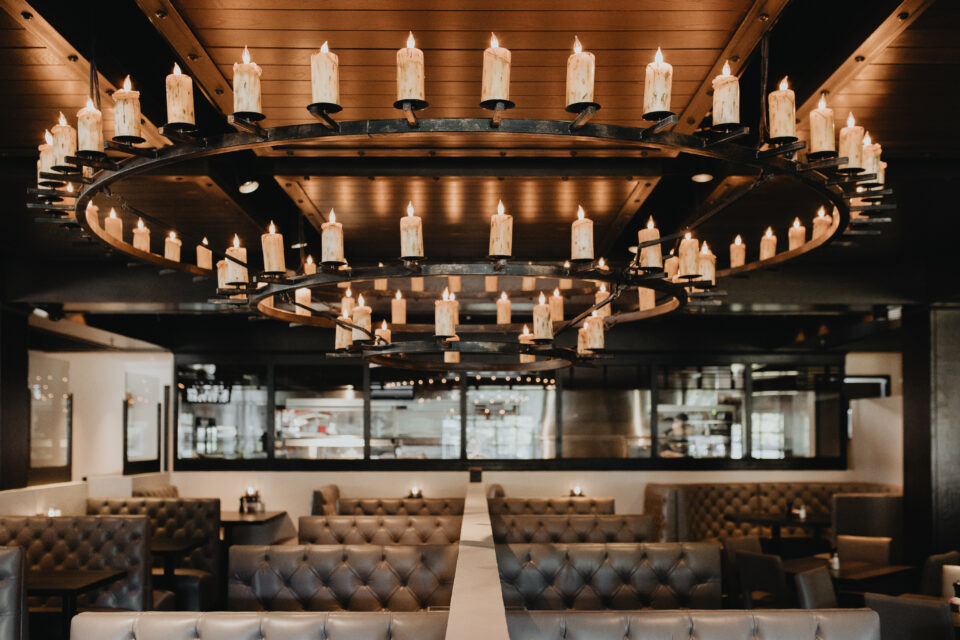 A Warm Welcome
The most striking part of the remodel can be seen when customers first enter the space. The full-marble fireplace with a contrasting outline sits below a minimal logo silhouette. 
The veins of the texture weave into a beautiful pattern. Each marble cut is unique and distinctly patterned—like a painting formed by nature deep beneath the Earth. This makes it a superior material for large surfaces. It creates a natural tapestry of lines and shading without extra detailing needed. 
The marble fireplace sits nestled within the warm tones of the wood flooring, panels, and framework. While marble is typically associated with grandiose residences and elaborate stately buildings, it fits well in a modest home and local BBQ joint. Marble adds value to a property both aesthetically and for resale purposes. 
Marble isn't just for courthouses, estates, and ancient Greek statues. It's a versatile material that can add powerful allure to any space. The beautiful simplicity of the marble countertop adds to its charm.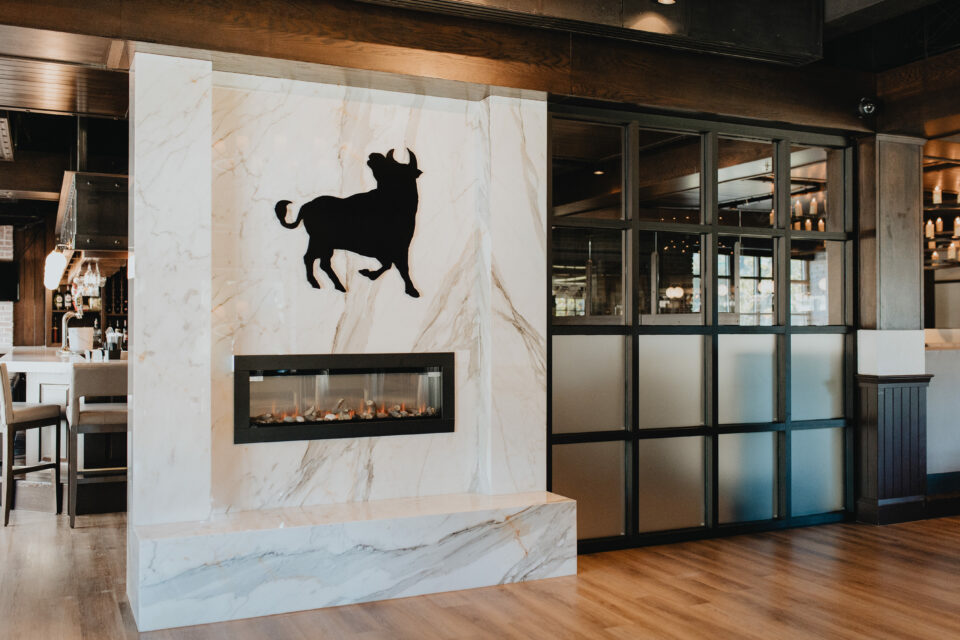 Serving Drinks in Style
The remodeled bar is immediately striking and inviting. The sleek, reflective quartzite countertop has a clean and sturdy style—matching the upholstery of the cozy chairs and the warm, antique light bulbs. It's a beautiful blend of old and new, with the bar's long-lasting traditional style matched by the clean-cut quartzite's seamless white glow.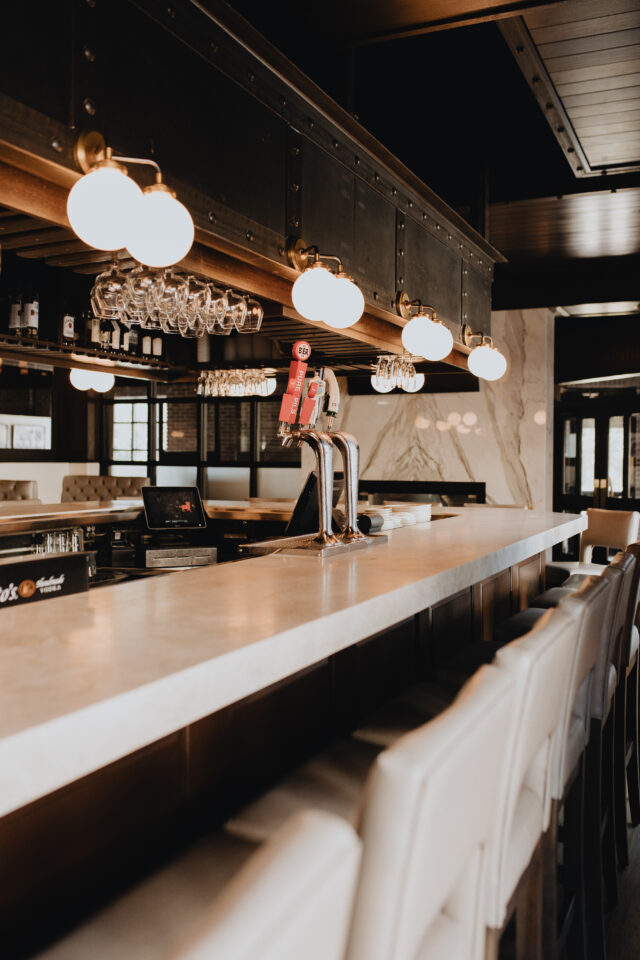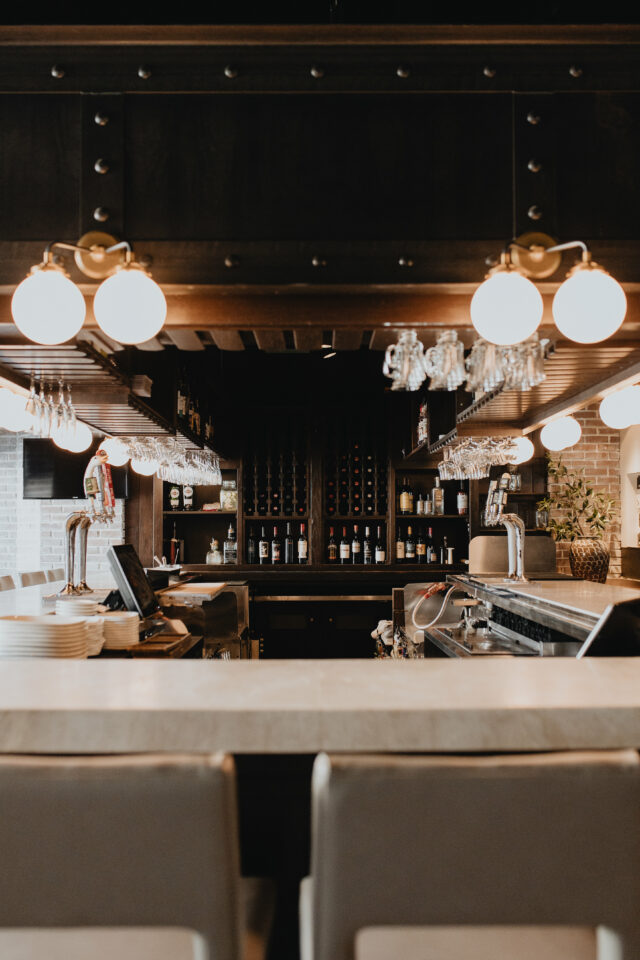 Water and Stone in Harmony
For the restrooms, quartz was applied to great effect in combination with Toto's stylistic faucets. The idea here is purity and simplicity, with one large quartz sink cut at steep right angles with a seamless surface. The large, rounded mirrors were placed with balanced spacing—adding to a design that conveys simple beauty. 
This design is unobtrusive and clean without feeling cold or impersonal. It embodies space and dreamlike grandeur while maintaining personal warmth and familiarity.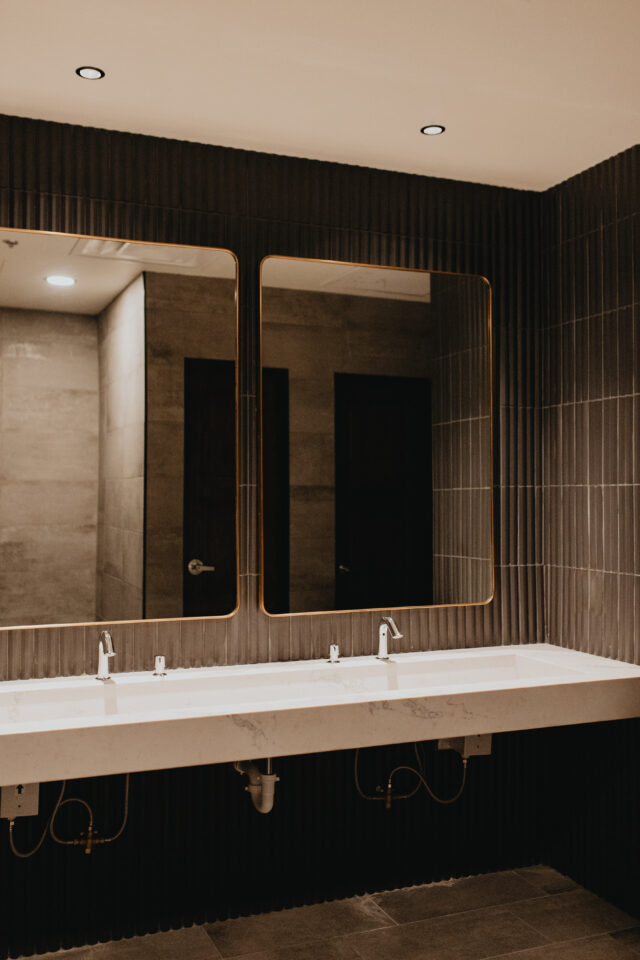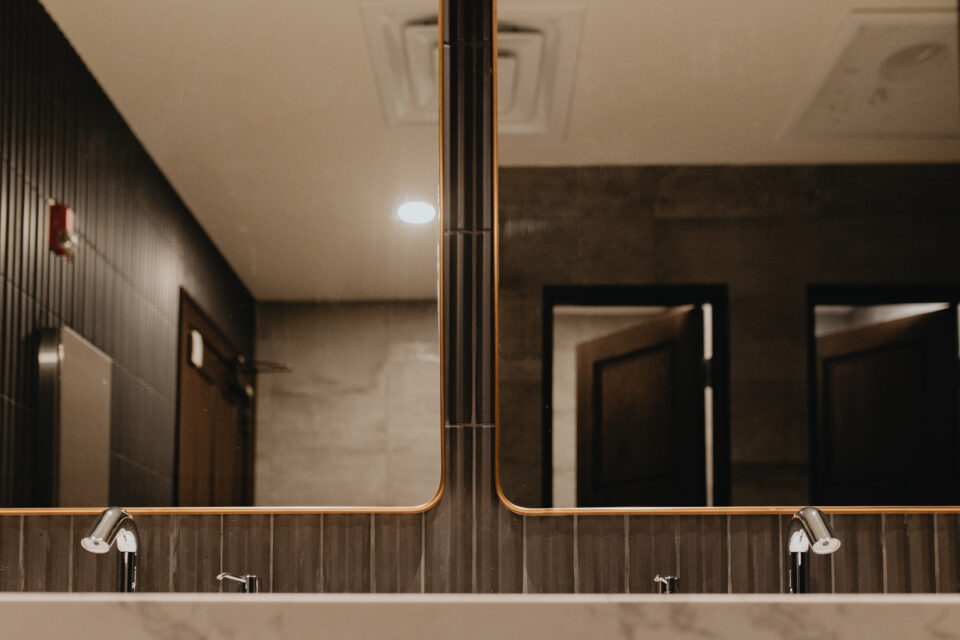 A Successful Renewal
Marble and quartz aren't the only great stone materials for remodeling. For the host stand, not pictured here, we went with Negresco Honed granite with waterfall legs. The waterfall legs give a seamless geometric look, while the granite contrasts with the brightness of the quartz. 
The final effect was a complete renewal of the space that invigorated the barbecue joint without sacrificing its traditional charm and legacy. The careful selection of materials combined with modern design in harmony with the original space gives the best of both worlds. It blends something original with something completely new and striking. 
Our work at Jack Stack Barbecue gives justice to a beloved favorite in the world's barbecue capital. However, our stonework is not limited to restaurants and commercial spaces. Stone countertops are quickly becoming popular as a feature in residential areas. If you'd like to bring this elegant beauty to your home in the Kansas City area, don't hesitate to contact us and inquire about remodeling your home. 
Rocktops can provide design, fabrication, and installation to meet your needs and preferences. Communication is our priority, and we can bring the same renewal as pictured above to your home interior. Impress your guests and add stunning beauty to your kitchen, restrooms, living room, and more.