Raising the Bar: 5 Ways to Elevate Basement Bar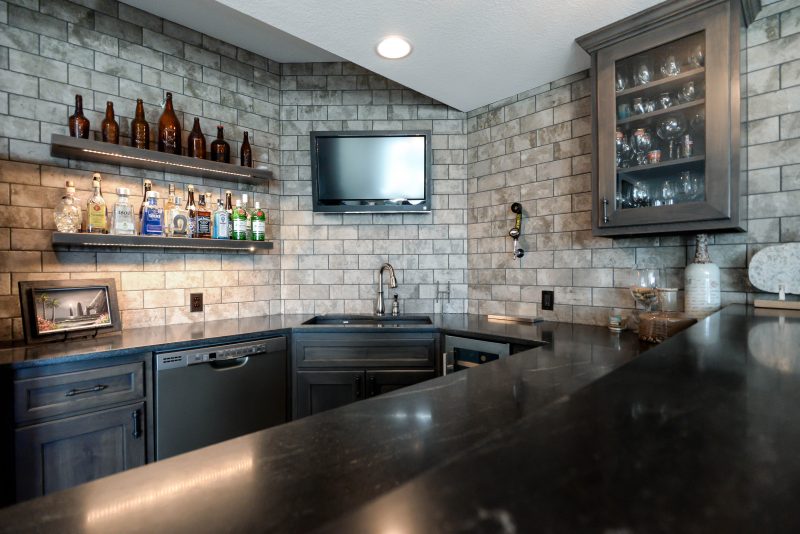 Basements are often times the most neglected room in the house. Usually a hodgepodge of old furniture, utility space, and storage, basements can tend to feel like dark, dingy caves. However, a well-crafted basement can add an extension to your living space and maximize your home's square footage. Not bad, especially if you are considering listing your house anytime in the future. The best way to utilize that basement square footage is by making it an extension of living space. Experts all agree that a basement should be finished with the same style and quality of materials found in the upper part of the home to make the basement truly feel like it is a continued part of the entire home. One of the best ways to utilize the basement is to use it as an additional entertainment space by adding a bar. Here are five tips on how to make sure your basement bar is stylish and functional.
1. Lighting
Lighting in your bar space will be the first item to consider. You should consider the mood you want to convey in the space and choose the appropriate lighting. Perhaps you would like to make the space feel light and bright, then clear glass pendants over the bar and recessed lights in the ceiling behind the bar will help amp up the bright factor. If you are going for a more dark and moody feeling, consider wall sconces to add ambiance. Incorporating your basement bar into your fun gaming room, consider color backlights or an illuminated bar to add to the fun.
2. Unique Seating
There are endless options when considering seating in a bar space. The most common would be the bar stool. There is a bar stool out there to reflect every personal style. However, there are other seating options for a basement bar that can create a fun and inviting space. Booths are becoming popular in home bars for their comfort and function as a more conversational seating arrangement. Lounge style seating paired with a wet bar offers more floor space for entertaining. By strategically placing a bar against a wall or under the stairs you can increase square footage for more comfy seating. Just remember still to incorporate space for a sink and under the counter cooler when planning your wet bar.
3. Countertops and Backsplashes
Since most bar basement spaces are on the small side, it is worth the investment to consider placing higher-end stone finishes in the space. Countertops should be kitchen-grade stone and a backsplash will keep your bar looking great for years. Granite is always a great option for bar tops, as it tends to resist staining. Another option, Dekton, is an ultra-compact, highly pressurized mix of raw materials that offers a sleek, modern feel. It comes in a variety of colors and grains allowing you to customize to your bar space.
Backsplashes for bar spaces offer endless possibilities depending on the overall style of the space. Mirrors are always good for that vintage retro vibe, while a limestone ledger option may complete the rustic look.
4. Built-Ins
No matter what style you go within your bar space don't forget about storage! Having functionality in your basement bar will guarantee that it will be used more often. Some clever tricks is to consider under cabinet upright storage for all your odd size liquor bottles. This offers more wall space to display the pretty barware items while clearing the clutter from the counter space. Don't forget to install some under shelf lighting to your upper cabinets or open shelves to add an extra wow factor.
5. Personal Touches
As with every other part of your home, a basement bar should reflect your personal style. Add some fun touches like unique art or hobby interests. Incorporate a favorite color scheme. A great way to add personal touches in the bar itself. Want to reflect a rustic side? Use galvanized metal when building your bar. Leaning more on the elegant side? Think cherry woods and carved details.
Every part of your basement bar should reflect the rest of your home and your personal style. A well designed basement can add extra livable square footage and value to your home.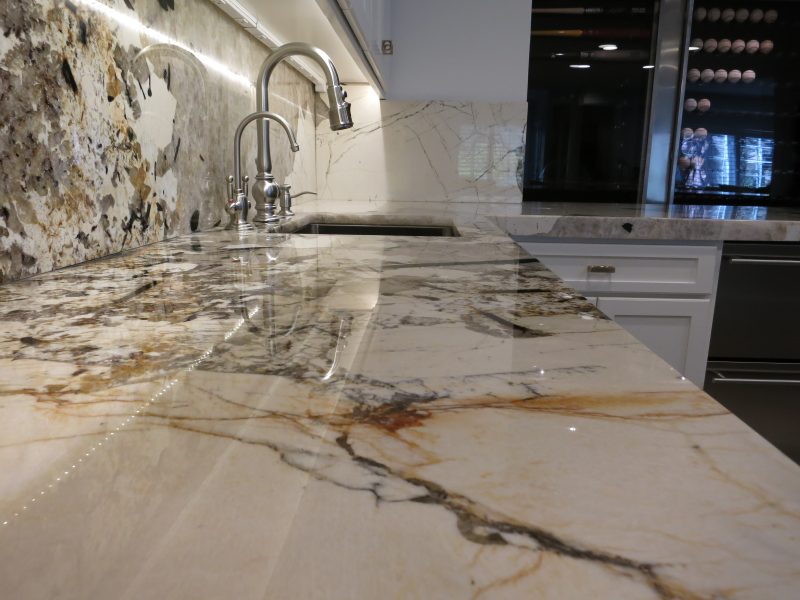 Looking for inspiration?
For more inspiration on basement bar designs, check out our website at RockTopsKC.com, or come into our showroom and get inspired. RockTops offers a wide variety of natural and manufactured stone options to fit any in-home bar needs! We are your Kansas City stone resource! Contact us at 913-782-0802 or email at info@rocktopskc.com