Rocktops: Exploring the Stunning World of Quartzite Countertops

When it comes to choosing the perfect natural stone for your home, quartzite stands out as an exquisite and versatile option. In recent years, Rocktops has seen an uptick in Quartzite popularity thanks to their remarkable durability and stunning designs. In this blog, we'll take a closer look at quartzite countertop options. We'll also explore the breathtaking spectrum of colors that make it a top choice for countertops.
Quartzite Countertops: Nature's Masterpiece in Your Home
Quartzite is among many natural stones the Earth provides us. It forms when a quartzite-rich sandstone metamorphs after exposure to high heat and pressure deep within the Earth's crust. This transformation creates a rock with exceptional hardness. As a building material, quartzite is celebrated for its durability but also for its unique beauty. These stunners stand out as true pieces of art in the home!

Quartzite Qualities
Hardness: Quartzite ranks higher on the MOHs scale of mineral hardness than many other commonly used stones, including granite and marble. Its hardness makes it highly resistant to scratches and abrasion.
Durability: Due to its hardness and resistance to wear and tear, quartzite is a durable material that can withstand heavy use and is suitable for high-traffic areas, i.e., kitchen countertops.
Heat Resistance: It is a more heat-resistant stone, making it a suitable choice for kitchen countertops where hot pots and pans may come into play. However, Rocktops strongly recommends using trivets to protect your investments from direct heat!
Low Porosity: Unlike marble, quartzite has low porosity. This means it is less likely to absorb liquids and is less prone to staining. That being said, some of the lighter Quartzites may require more dry time off the production line if we do pick up on some absorption coming into play. Because Quartzite is a natural stone, we recommend you keep up with the sealing of your countertops to maintain that stain resistance!

Designs and Colors
One of the most remarkable aspects of quartzite is the incredible variety of designs and colors it offers. Each slab of quartzite is a testament to the beauty of nature, with its own distinct patterns and hues. The color schemes are vast; you'll find everything from neutral tones of tans, grays, and whites. To exotic ranges in greens, blues, reds, and pinks. Intimidated? Don't be. We've seen what these ladies are capable of, and we're here to help you pick out the best option for your home!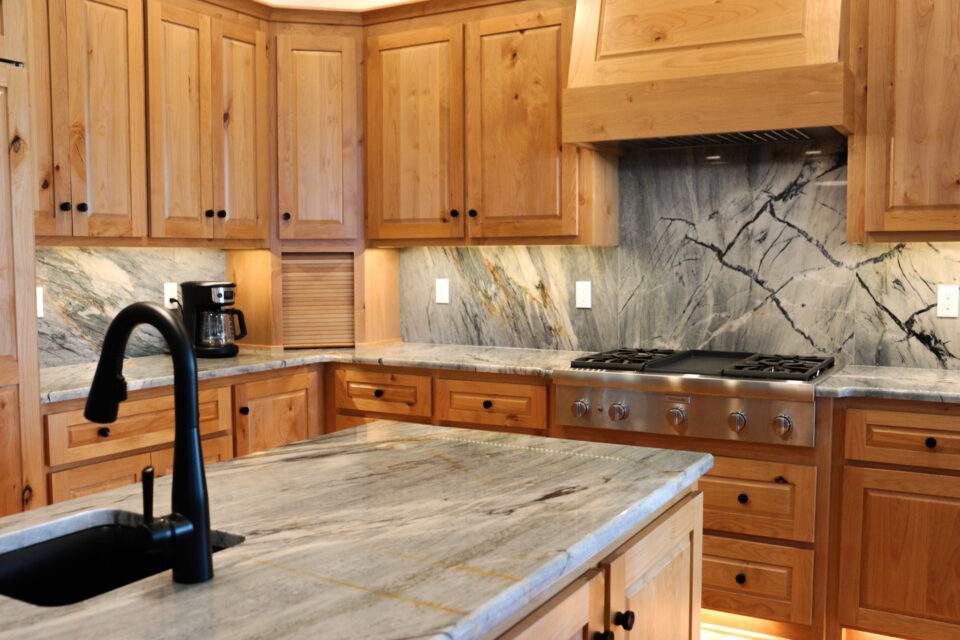 With its remarkable durability and breathtaking variety of designs and colors, Quartzite is a perfect choice for homeowners, architects, and designers alike. Whether you prefer the timeless elegance of white quartzite or the bold allure of multicolored varieties. There's an option to suit your unique style and project needs. With quartzite, you not only invest in a durable and practical material but also bring a piece of nature's artistry into your home. Making it a space of unmatched beauty and sophistication.
Check out our Stock Program for more inspiration for your home. And if you have any burning questions about Quartzite, Rocktops can answer them for you. We're here for you every step of the way. Schedule your appointment in our showroom – Free Estimates Available!