Welcome to Rocktops Showroom

Welcome to Rocktops, where we can make all of your dreams come true, at least your countertop dreams. We get a lot of visitors and tons of "Wow" when they walk through our doors. We worked very hard on our showroom and are very proud of the outcome. We've even won an award after completion in 2018. When we first began, we knew we wanted to have four unique styled kitchens, with islands for customers to layout drawings and samples. Along with this, we wanted a sample wall that was displaying stone in a jewelry case setting. We didn't want to miss any opportunities to showcase our stone…whether it be the front desk, coffee bar, or conference room. Our main goal was to showcase our fabrication skills and we feel that Jennifer Bertrand, HGTV Design Star, took ours to a whole other level.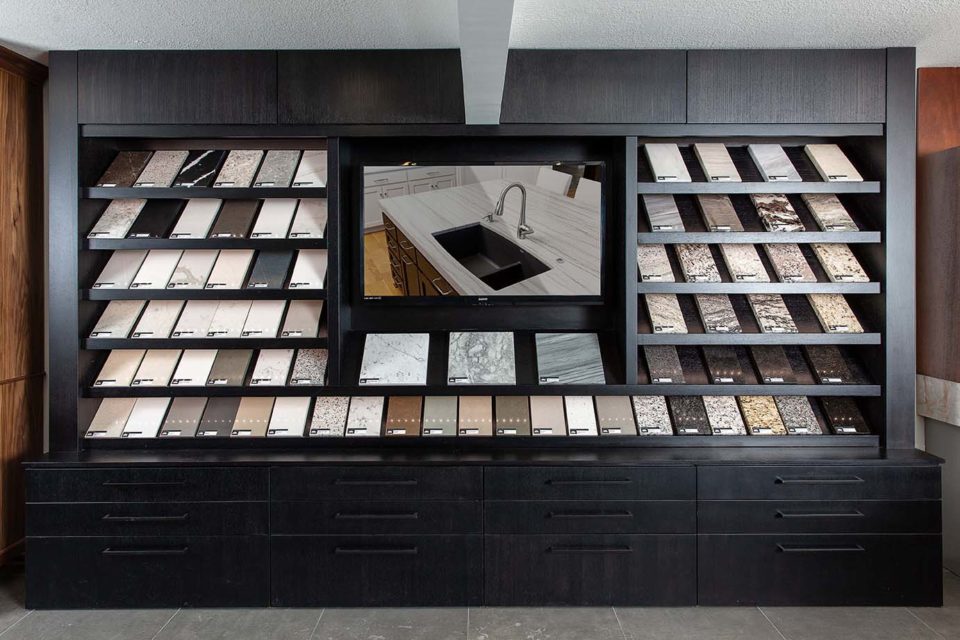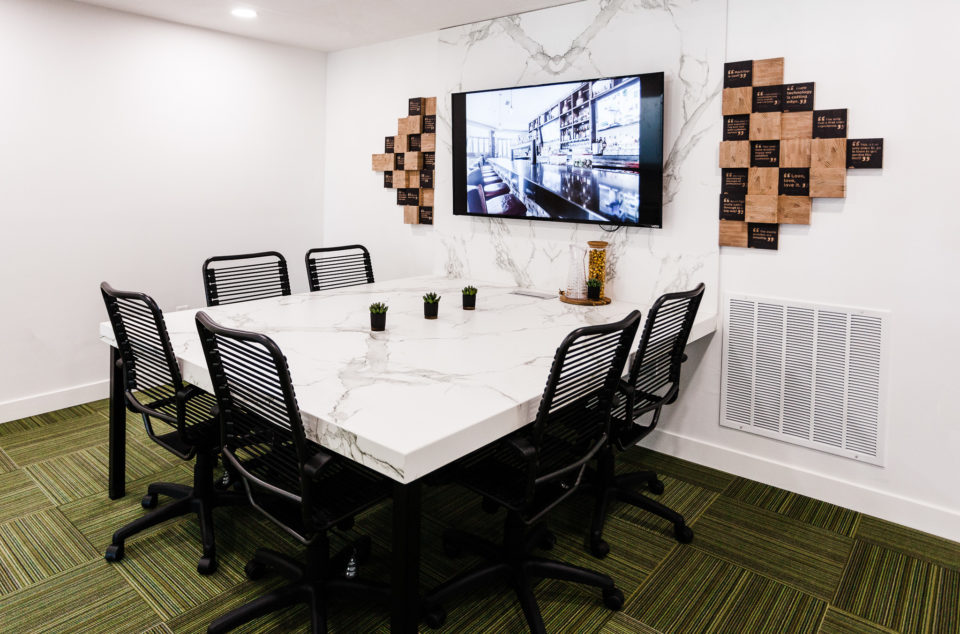 The overall concept was to create an experience that would inspire the industry, as well as the consumer. We attempted to highlight the technical ability of our business while trying to remain humble. We're pushing the boundaries of stone and wood in a home environment, emphasizing woven materials as a dramatic focal point. Within our showroom, each vignette incorporates a unique style and innovative design while proudly supporting and showcasing local vendors. Overall, our space holds its own on a national level, without being intimidating from a local perspective.
The challenges that we faced was having to create a clean and cohesive look with four different styles, fabricating spaces using stone and wood together, having a heavy live edge wood hood, fire sprinklers in the ceilings. We decided to let the people decide the names of each kitchen. We posted each kitchen on social media for our audience to decide the names for each kitchen:
1. The Organic Kitchen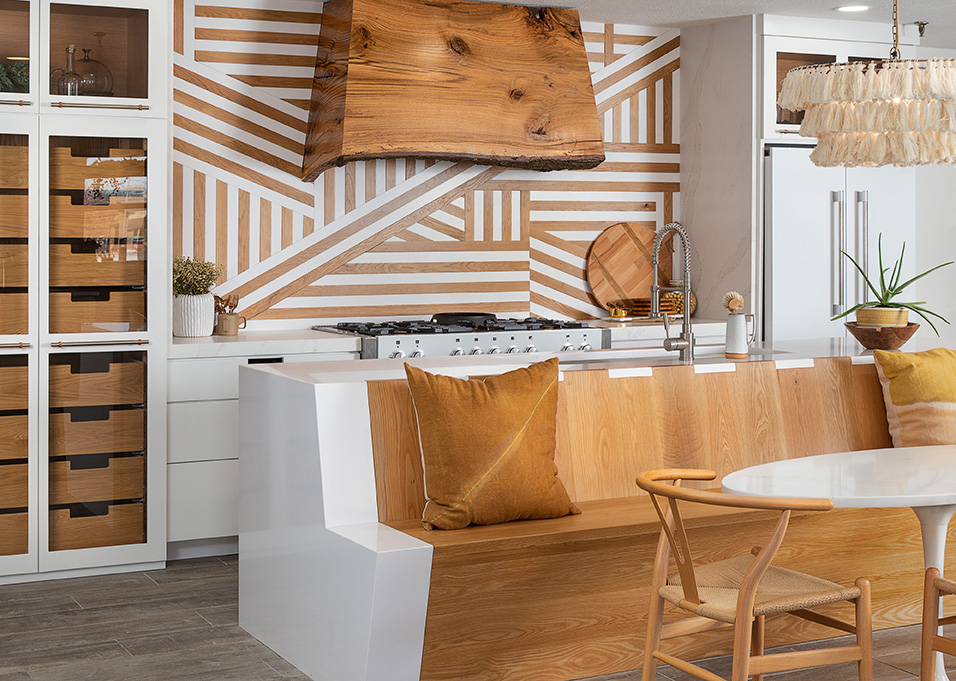 One of our four kitchens uses Calacatta Gold suede quartz and the island has a White Zeus quartz with a white oak box joint. The backsplash we used White Zeus and white oak cut to custom patter along with Calacatta gold quartz up the sides of the cabinet.
Things to notice:
Box joint bench
The detailed backsplash with stone and wood
Live edge hood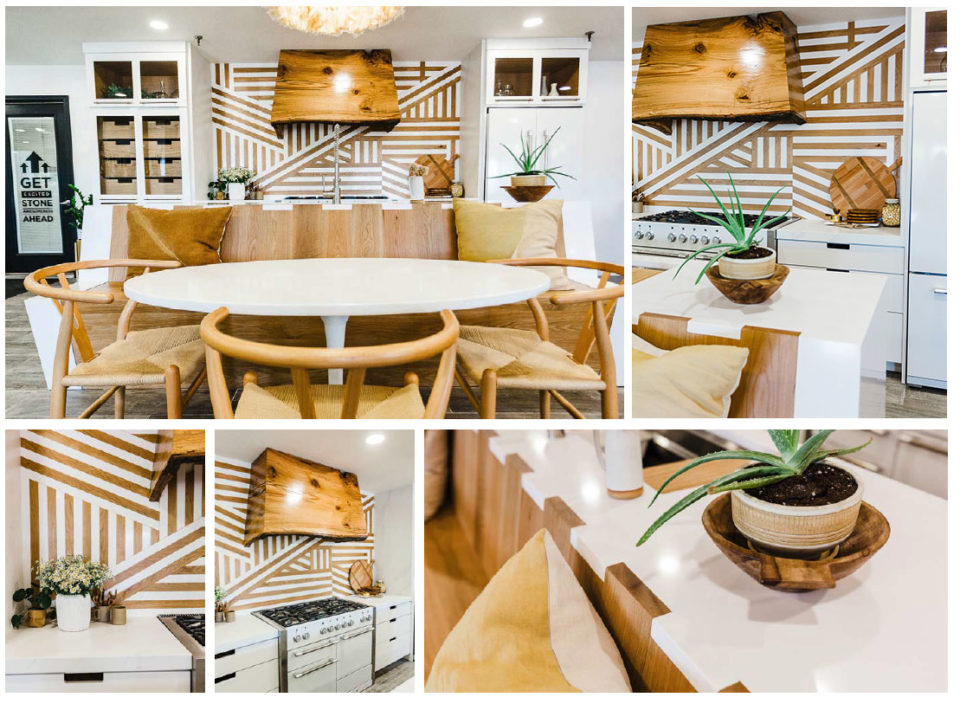 2. The Whiskey Kitchen
Next, we move onto our black kitchen which uses Nero Orion granite and the island has titanium brushed granite with recycled cable car wood. For the backsplash, a Nero Orion shelf was used and recycled cable car wood.
Things to notice:
Recycled cable wood backsplash
Stone shelf
Mitered angled island
Custom furniture piece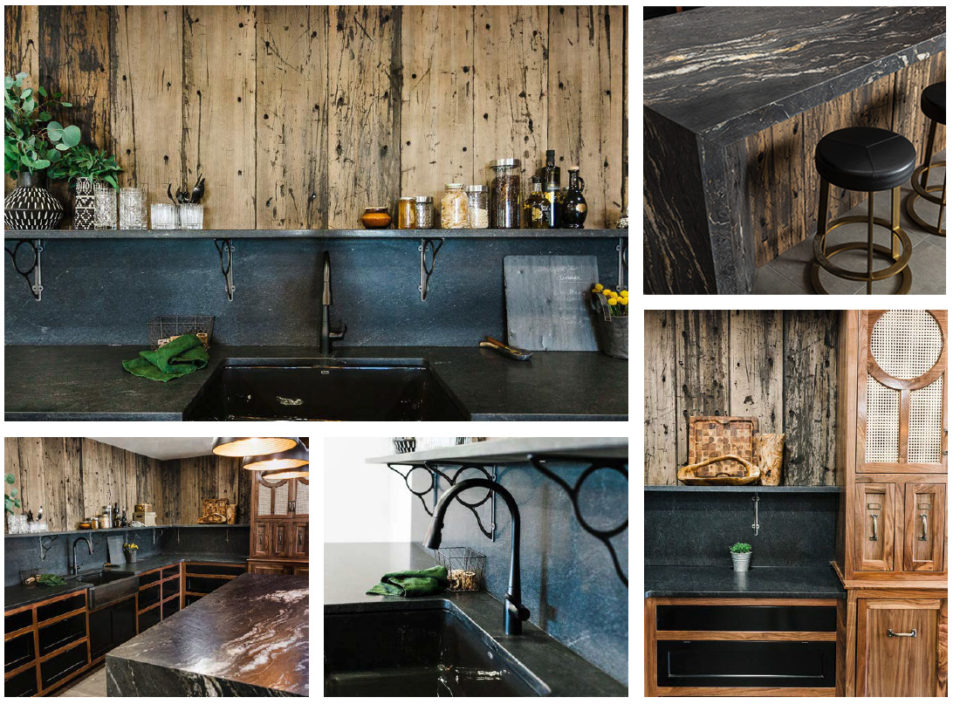 3. The Luxe Kitchen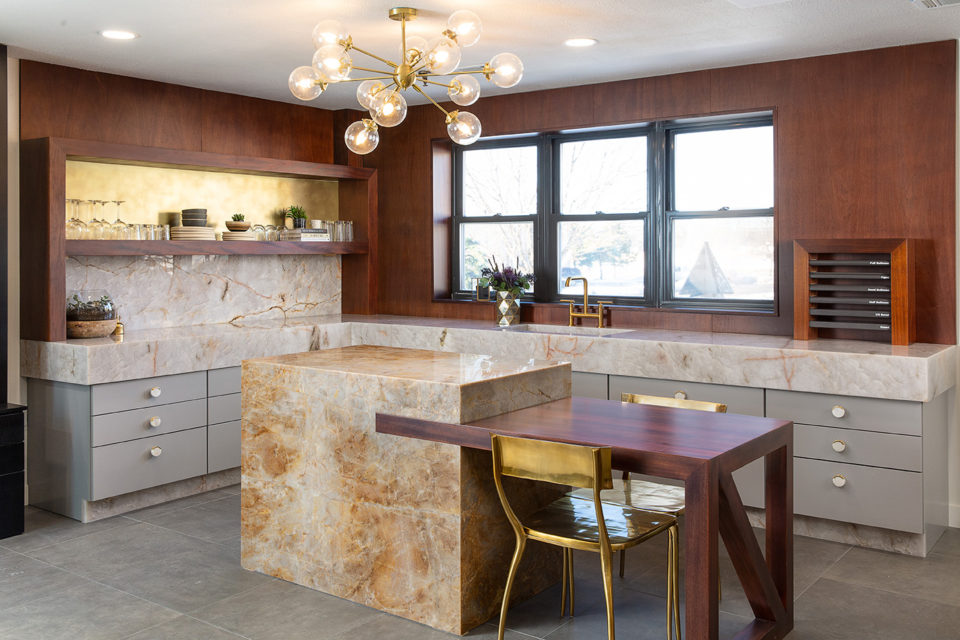 Moving onto our third kitchen, we have a Zurich quartzite and fusion quartzite integrated with mahogany. The sink that was used is a custom fabricated Zurich sink, we also used a toe-kick made of fabricated Zurich. Mahogany with brass metal is used for the backsplash in this kitchen as well.
Things to notice:
Both quartzites can be backlit
Stone toe-kick
Large miter overhang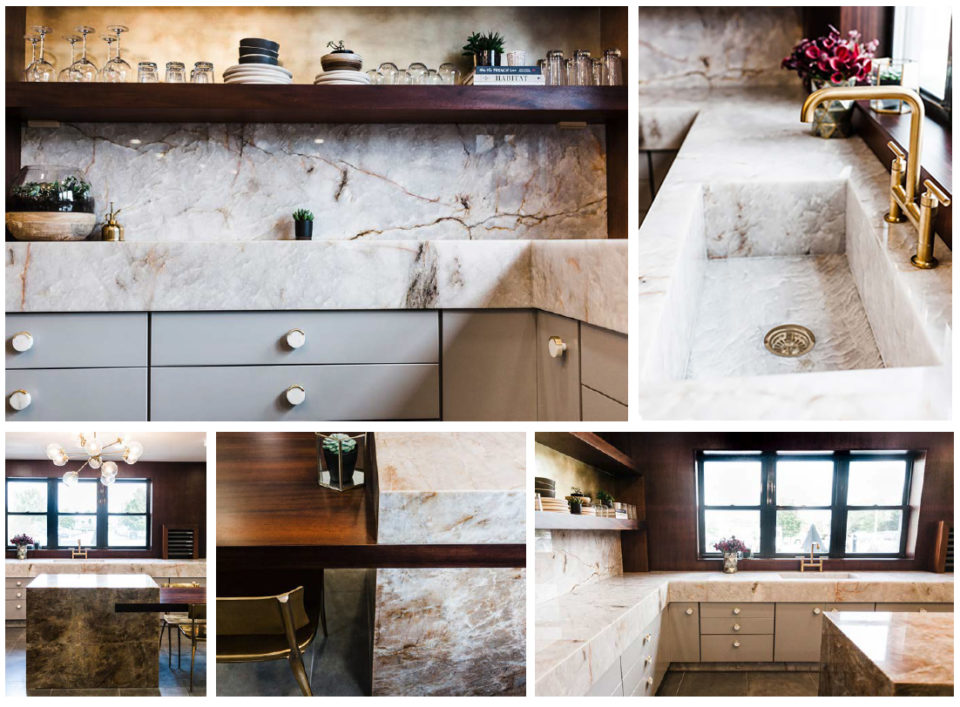 4. The Envy Kitchen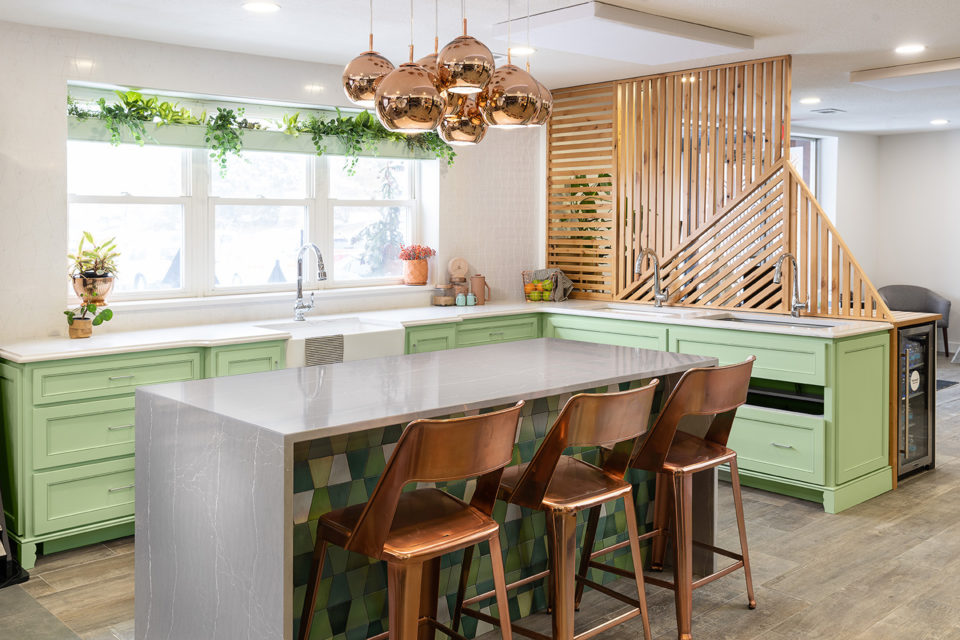 Our last kitchen uses Cambria Ella quartz for the perimeter stone and for the island we have Cambria Clareanne quartz. The backsplash used is Statuario quartz in a trapezoid pattern. As for the island, the tiles are custom-built wood in another trapezoid pattern. These wood tiles are stained in six different colors of green. We built a custom wood planter as well as an alder wood partition in a custom pattern to break up space.
Things to notice:
Engraved backsplash with the pattern repeating from the island
Custom wood island tiles
Large miter overhang
Furniture base toe-kick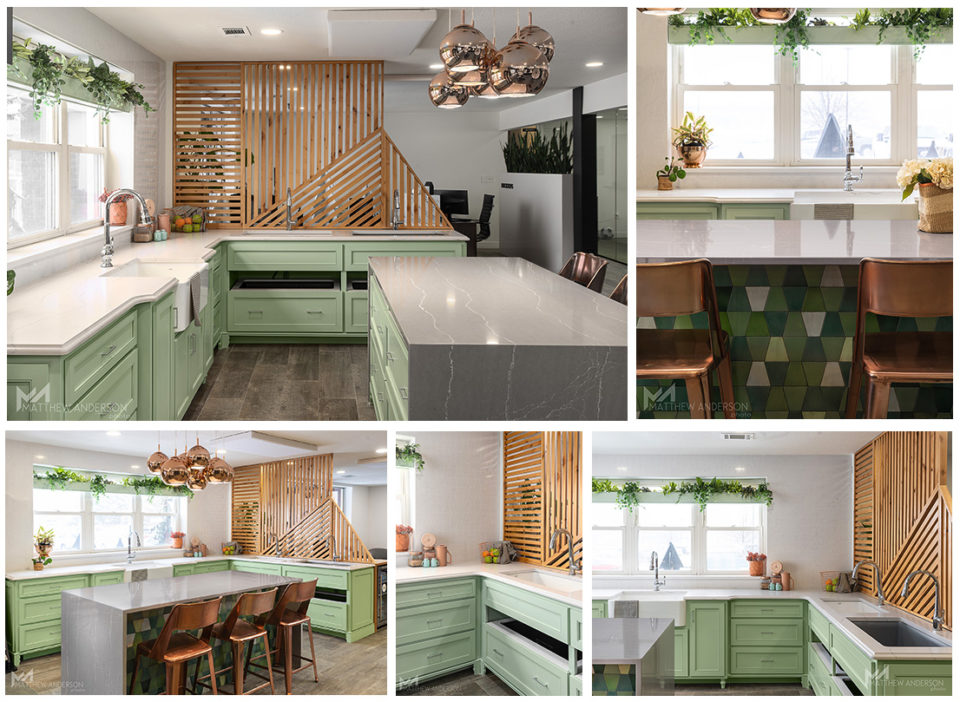 Ready to rock your home? For more information on granite and quartz countertops in Kansas City check out our website at RocktopsKC.com, or better yet, visit our showroom and get inspired. Rocktops creates beautiful kitchen and bathrooms throughout Johnson County and the Kansas City metropolitan area. We are your premier Kansas City resource for granite, quartz, quartzite, marble and more! Contact us at 913-782-0802 or email at info@rocktopskc.com.