All I Want For Christmas Are New Countertops

With the holiday season quickly approaching, what better gift to give than new countertops? Whether it's granite, marble, quartz, or quartzite, new countertops can make your gift the one that everyone wants. We sat down with some of our very own stone experts and got some inspiration from the best of the best. Who knows, maybe their loved ones will see this and get them the gift that ROCKS!
Alexis Beaven – Project Manager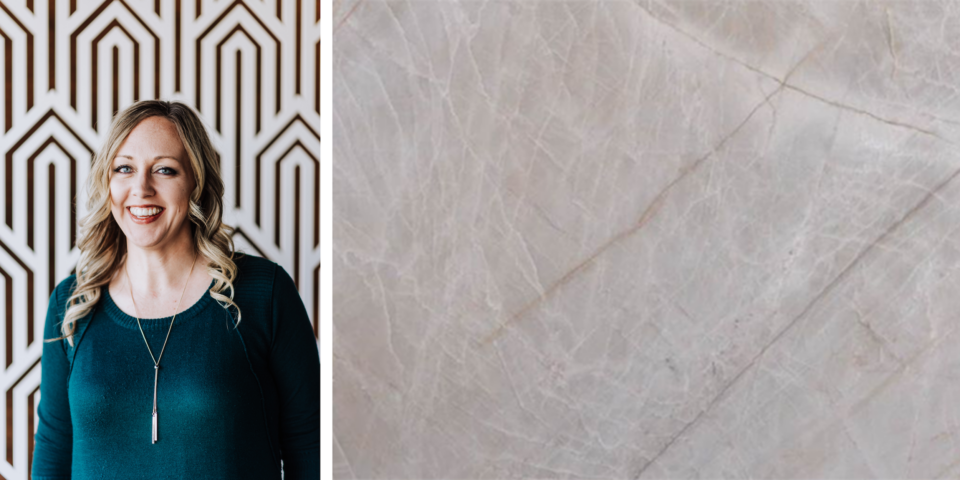 "Like any woman, I change my mind every day but right now I'm loving Zurich!  She's a classic beauty with a little transparency to the stone.  She reminds me of crystal but has subtle highlights of golds, rust, and deep reds. Zurich is a Quartzite so she's stain, heat, and scratch-resistant.  Her price point can be intimidating for countertops but she's worth it.  If Santa's listening, a Zurich kitchen is high on my list!"
Chip Anderson – Commercial Sales Representative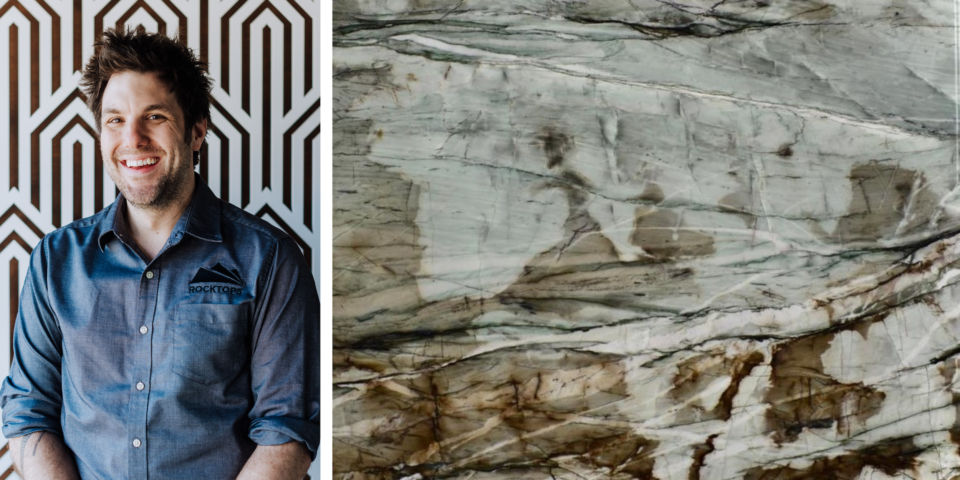 "If I could choose any stone in our warehouse for Christmas – you best believe I'm asking Santa for our Crystal Macchiato Quartzite. It would typically have no business being in my house… the warm browns and aquamarine are definitely not something I'd typically swoon over – but dang. This stuff is radical and so unique. You just see so much of the same thing, which is all good – that's design trends for you that's what we're here to do – but in a world of whites and greys – it's awesome to get a showstopping stone in like this."
Sara Vineyard – Marketing Coordinator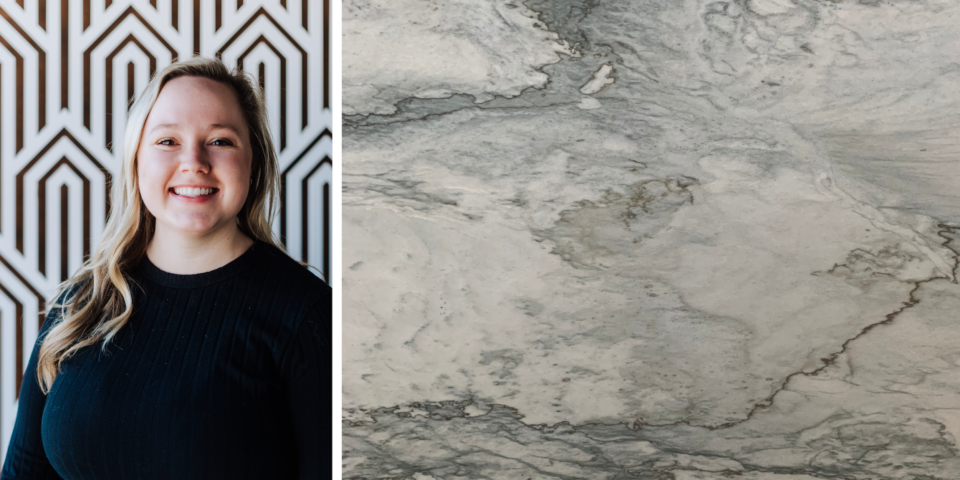 "All I want for Christmas this year is a gorgeous kitchen that I'm obviously not going to cook in, but to have just to marvel at its beauty. In this dream kitchen of mine, I would want to have a Lamberti Bianco Quartzite island with a waterfall edge. I would also love to have my surround and full-height backsplash in this exquisite stone, complemented by rosemary green painted cabinets and gold accents. These quartzite slabs consist of blue and green undertones, the veining of this quartzite will simply transport you to the beach. With countertops like this, bring on the midwestern dreary weather, I'll be sipping mai-tais on my brand new island."
Irwin Rangel – CAD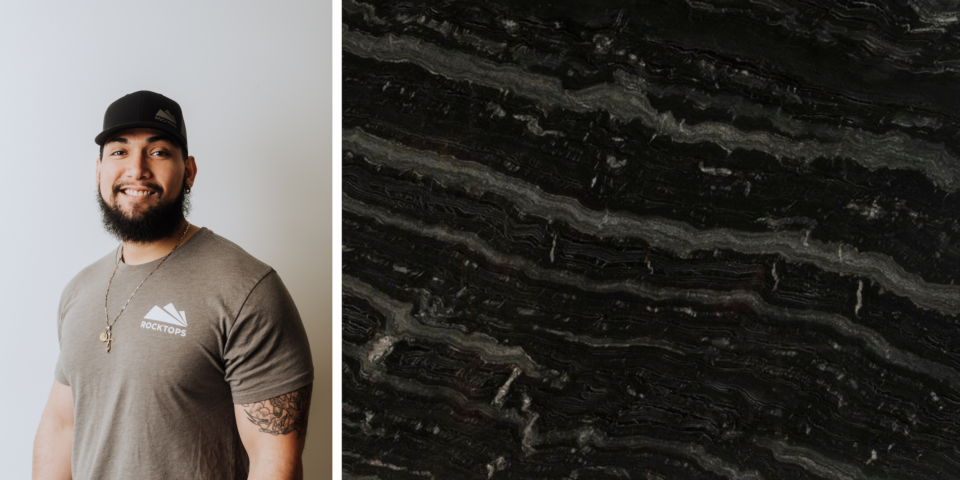 "My favorite stone would have to be Agatha Black Granite. I would like to have a miter island in my basement. It's one of my favorites because it's bold yet not too much. It's also kind of soothing when you look at a full slab of it."
Kate Conway – Sales Representative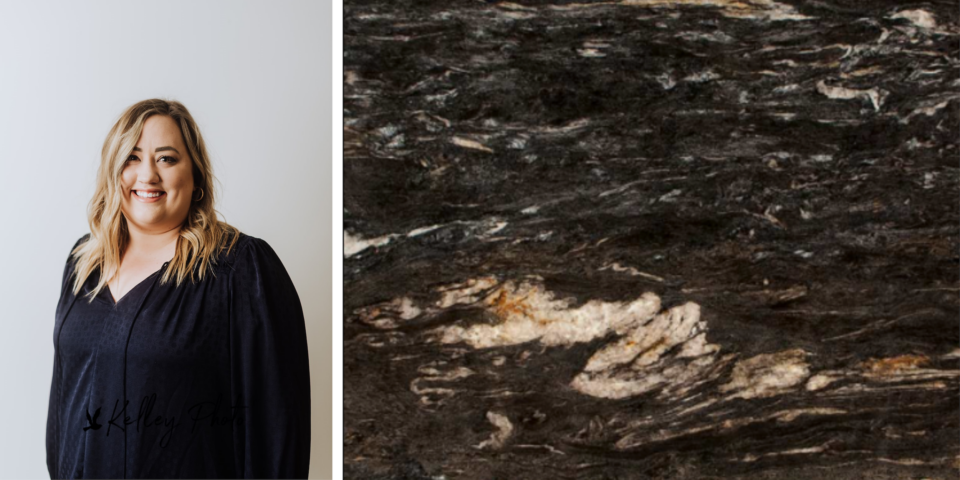 "My favorite stone is Titanium Brushed Granite. Not only is this stone neutral and timeless, but it also has a beautiful textured finish giving it more of a dark and moody look that I just can't seem to steer away from! This is definitely a showstopper option for a kitchen or a basement bar."
See a stone from this blog that you have to have for the holidays? For more information on granite and quartz countertops in Kansas City check out our website at RocktopsKC.com, or better yet, visit our showroom and get inspired.
Rocktops creates beautiful kitchens and bathrooms throughout Johnson County and the Kansas City metropolitan area. We are your premier Kansas City resource for granite, quartz, quartzite, marble, and more! Contact us at 913-782-0802 or email at info@rocktopskc.com.