Baking For The Holidays: How to Keep Your Countertops in Check

With the holidays right around the corner, you most likely are going to be spending a lot of time in the kitchen. You'll be cooking and baking all while jamming out to your favorite holiday tunes. We suggest ROCKing Around the Xmas tree. However, you may be worried about harming your countertops. But don't fear, we are here to give you insight on how to keep your countertops in check for the busy season ahead.
Natural Stone
Granite, Marble, and Quartzite are all beautiful countertop options however, they are also unique in how you should take care of them. When it comes to baking in the kitchen, Granite and Quartzite will be the best for durability. They will be more forgiving when it comes to cutting and rolling directly on the surface. Marble, on the other hand, is a lot softer therefore, it will be easier to scratch so keep that in mind when it comes to your kitchen.
When your countertops are first installed, they will come sealed. Every year after that, we recommend resealing to ensure the longest and safest life of your countertops. Since natural stones are porous, bacteria could potentially get trapped in the pores which makes sealing them very crucial to prevent that.
When it comes to cleaning there are tons of options on the market. They make a clean/sealer all in one to make things super simple. There are also a lot of cleaners specifically made for natural stones but a mixture of soap and water will work too. Here is a link to a cleaner/sealer we recommend.
In regards to putting a hot pan right on the countertop surface, we don't recommend doing this either. Using a trivet as a barrier can never hurt and just ensures extra safety.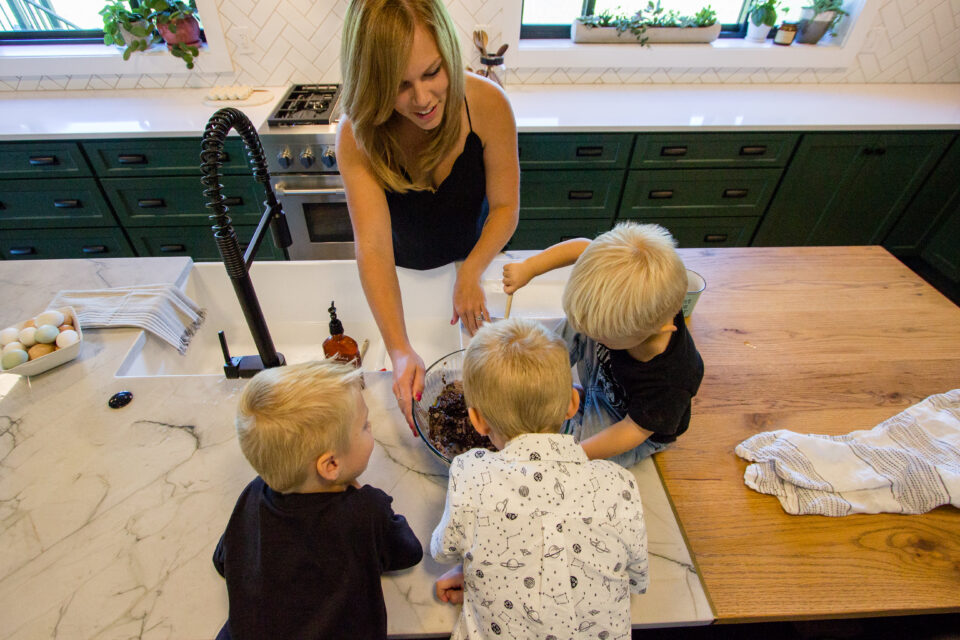 Quartz
A countertop material like Quartz doesn't need to be sealed. Once it's installed, it's good to go. So, this is a great material for baking and cooking since it's easy to clean, it's not porous, and it's scratch and stain-resistant.
There are a lot of cleaning options on the market that are advertised specifically for Quartz but a mixture of warm water and dish soap will do the trick as well. Here is a link to a cleaning product we recommend.
When it comes to putting heat on Quartz, we don't recommend it. Since Quartz is made with a resin it could discolor if a hot pan is placed directly on top. So to save you some trouble, we suggest using a trivet as an extra precaution.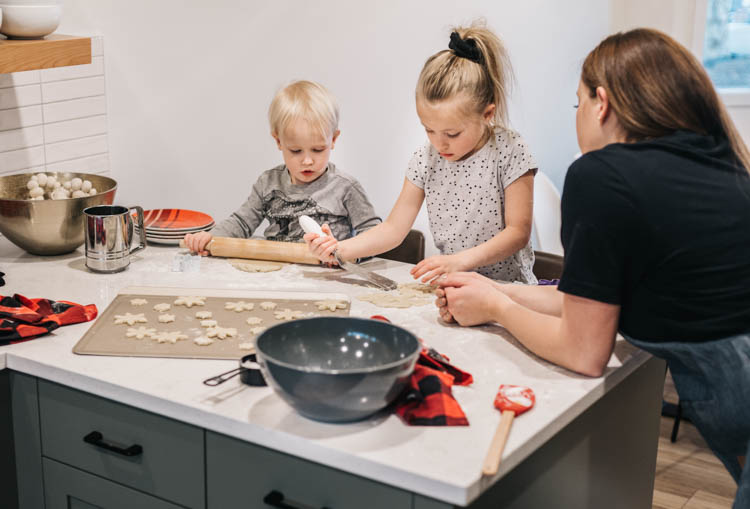 Butcher Blog
Wood countertops are a very popular material in the baking/cooking world. You see a lot of them in bakeries and there is a reason for that.
Wood countertops are crafted in a way where you can chop directly on the surface. No cutting board is needed, although it never hurts to use one! You can roll dough, use cookie cutters, and decorate directly on the surface. 
There are many styles in which wood countertops come in. The best construction style for baking is end grain. End grain is a preferred chopping surface by chefs, as this style is the kindest to knives and keeps them sharp. In addition, butcher blocks tend to be self-healing and most knife marks disappear after cleaning.
Just like the other countertop materials before, they make cleaning products specifically for wood countertops. You can also spray undiluted vinegar on the surface, let it sit for a few minutes, then wipe it off with a clean cloth. To continue the longevity of the countertops, make sure to re-oil and they will look like new again. Here is a link to a cleaner we recommend.

All in all, having your countertops in check can allow you peace of mind around the holidays. Better yet, having your countertops in tip-top shape offers a great backdrop to your fabulous meals and holiday treats. After all, we are all doing it for The Gram.
For extra information on how to take care of your countertops, click on this link to read more.
Ready to rock your home? For more information on granite and quartz countertops in Kansas City check out our website at RocktopsKC.com, or better yet, visit our showroom and get inspired.
Rocktops creates beautiful kitchens and bathrooms throughout Johnson County and the Kansas City metropolitan area. We are your premier Kansas City resource for granite, quartz, quartzite, marble, and more! Contact us at 913-782-0802 or email at info@rocktopskc.com.