Homes That Rock – Wimberly

We are back with another home tour. This home features the amazing work done by Kansas City designer, Buck Wimberly. Everything in this home is modern yet earthy and is a piece of artwork. We are proud to have been a part of the Kansas City countertops process and more.
Entryway:
An entryway is the first thing you see when you enter a home therefore, it has to be grand. This one is just that. The wood panel décor piece was fabricated by Rocktops and is a unique piece of artwork. In addition, the moss on the opposite side of the wall ties together the earthy look.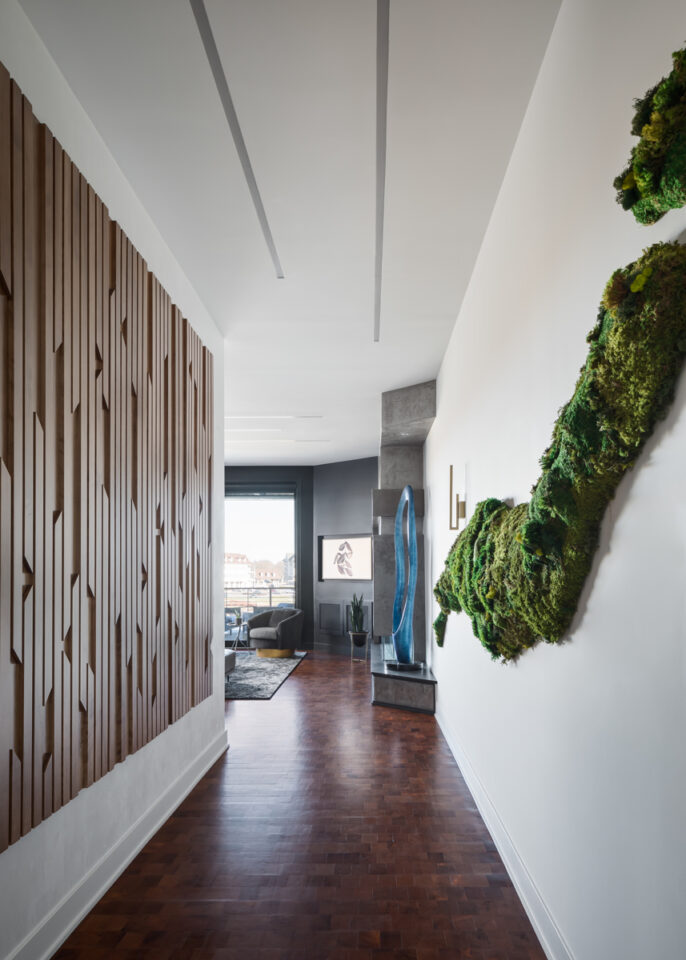 Powder Bath:
Everything in this home has a natural feel to it. So, this bathroom definitely captures that. We love the wood countertops with the wood sink. Let's not forget about this gorgeous mirror.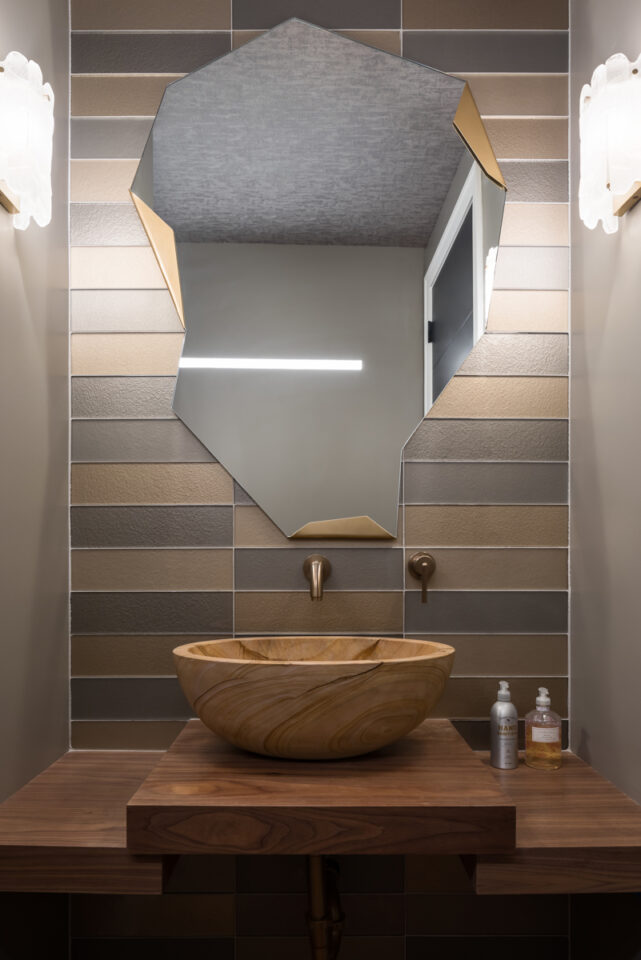 Fireplace:
This fireplace isn't like anything we've seen before. It's super modern and is an art piece in itself. The hearth is made from Nero Orion Granite which as a result, bringing in natural elements.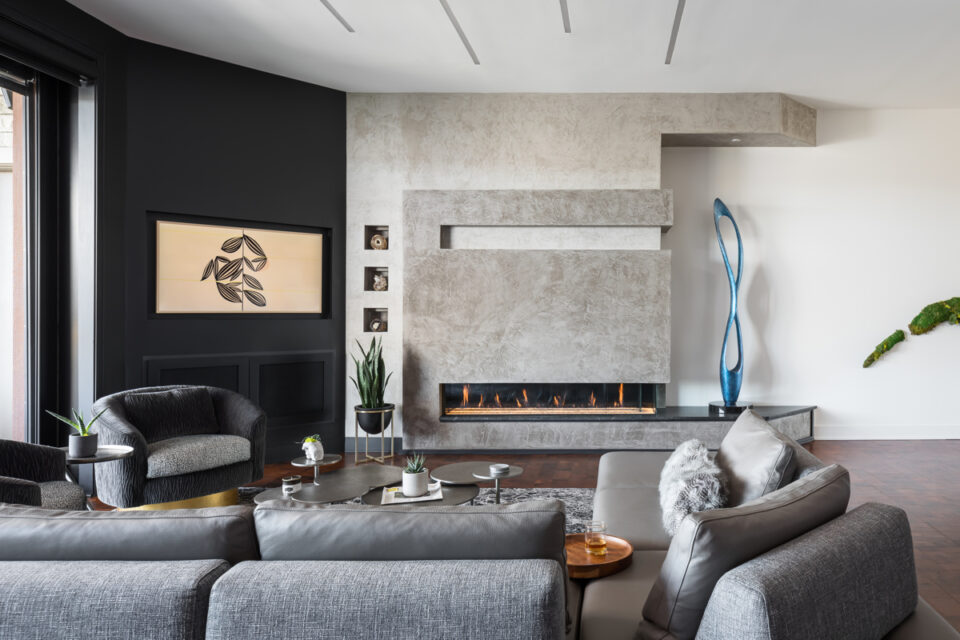 Dining Table:
This dining table is a custom-made piece so it's one of a kind. The base material used is Titanium Brushed Granite with a wood top. It fits the space nicely consequently taking this room to the next level.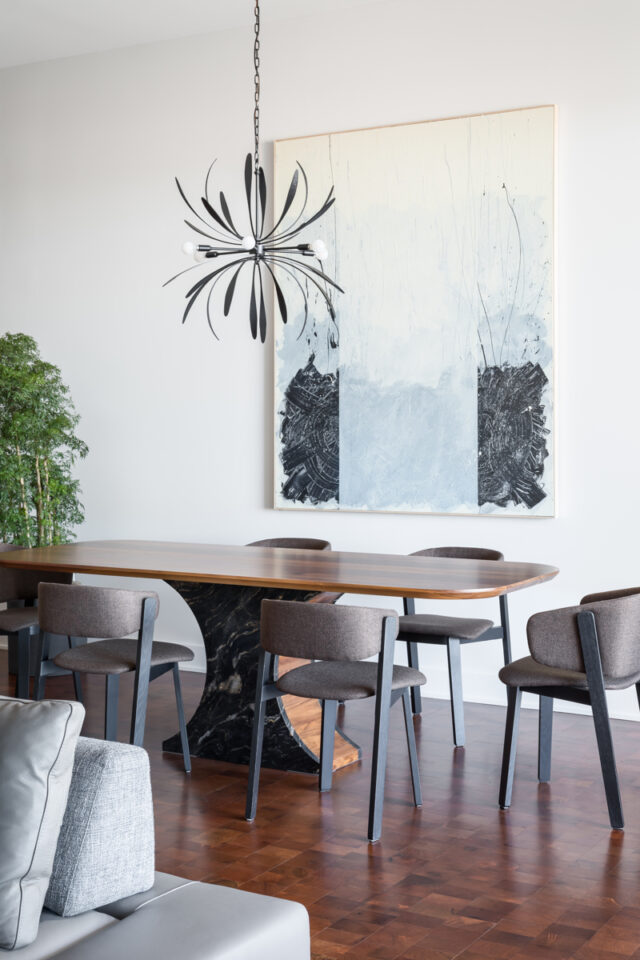 Kitchen:
There are a lot of elements to this kitchen. As a result, you get something that's totally unique. These Kansas City countertops are made from Calacatta Halo Quartz with a full-height splash and similarly, the same material was used. For the bar off to the side of the kitchen, they used Cabrini Grey Quartz for the full heigh splash. These stones go perfectly with the navy blue and wood cabinets.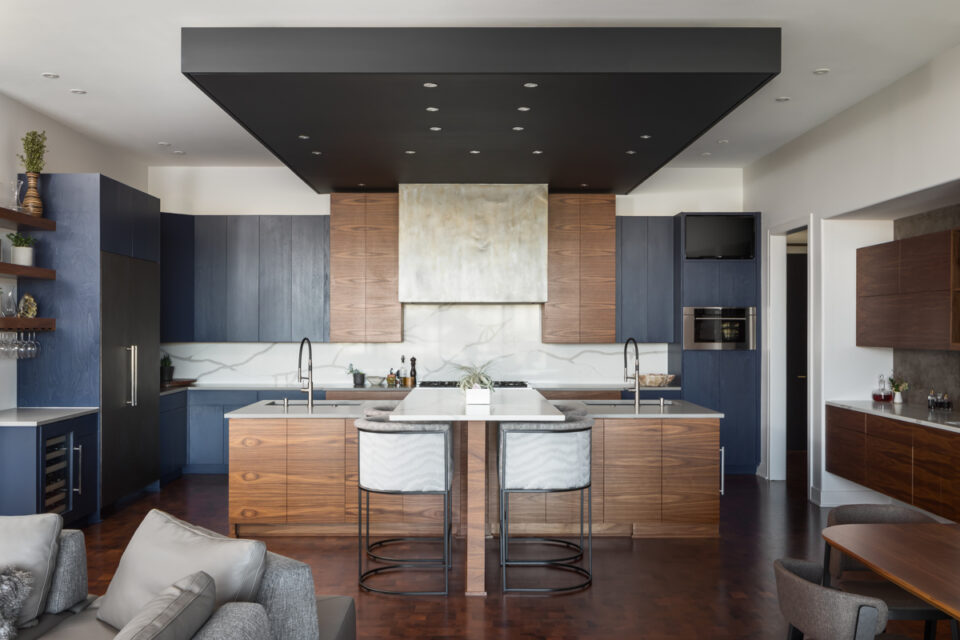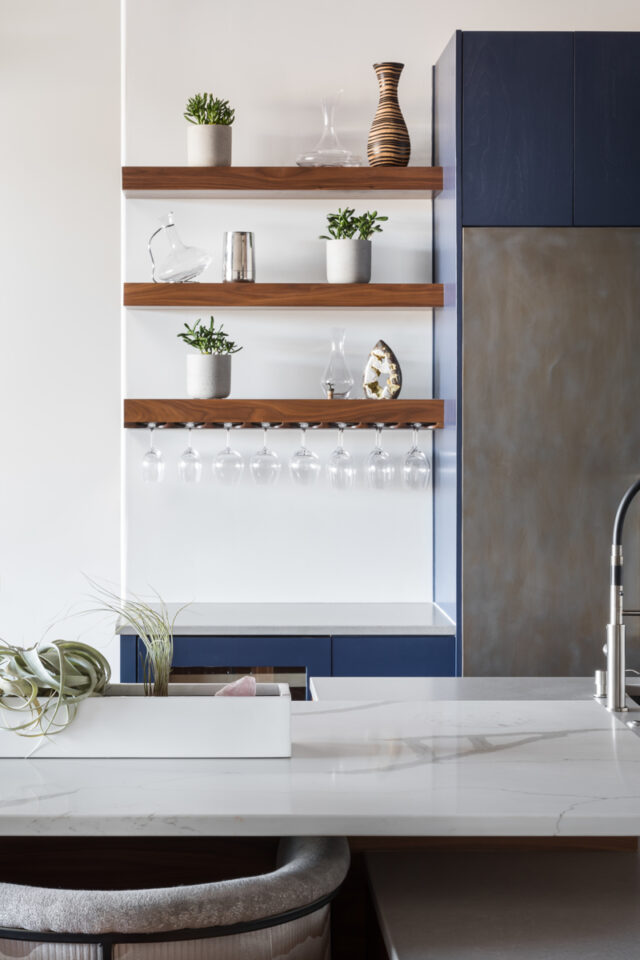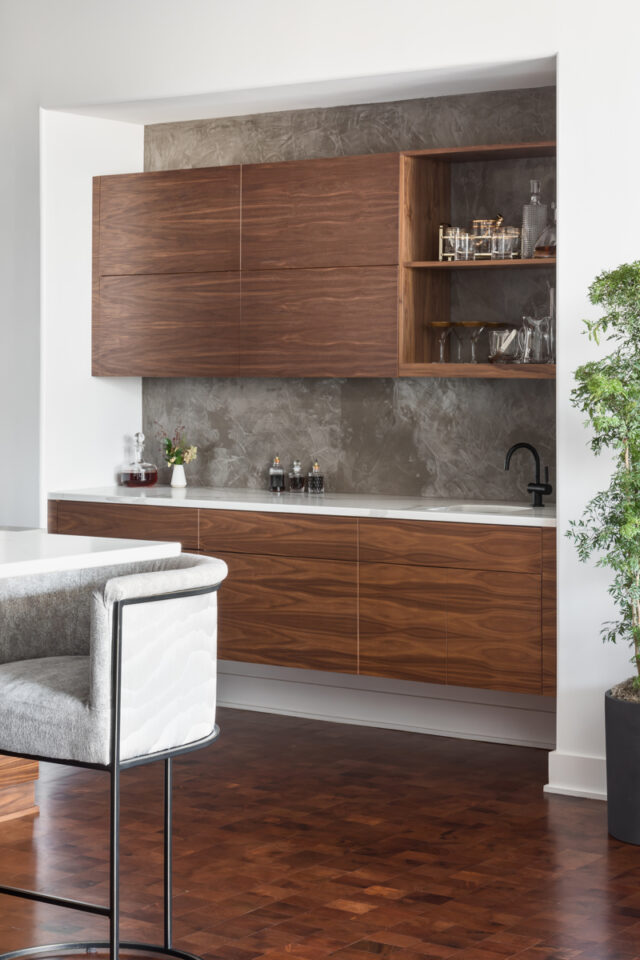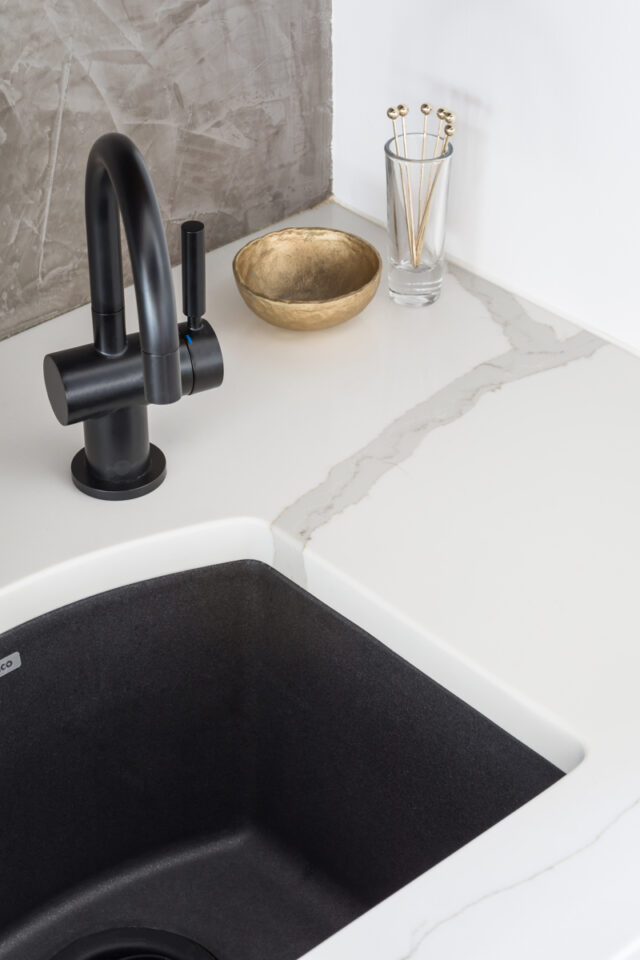 Master Bath:
The master bath has a simple design. The Kansas City countertops are made from White Zeus Quartz which as a result, go perfectly with the wood base.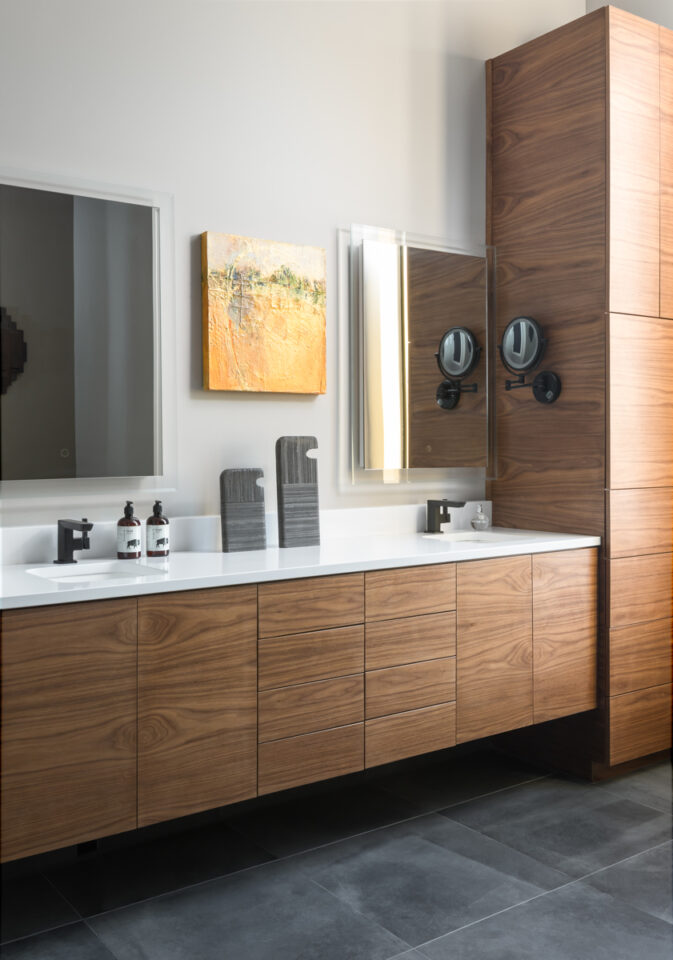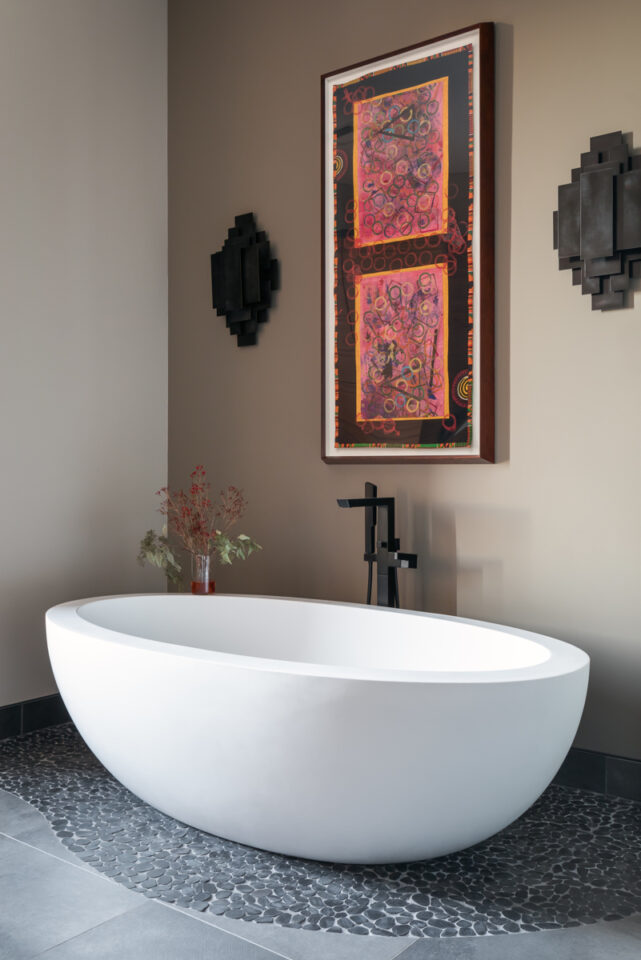 In short, this home is spectacular. You can tell everything was thought out and as a result, they didn't miss any details. All in all, we are proud to have been a part of the Kansas City countertops process.
Ready to rock your home? For more information on granite and quartz countertops in Kansas City check out our website at RocktopsKC.com, or better yet, visit our showroom and get inspired. Rocktops creates beautiful kitchens and bathrooms throughout Johnson County and the Kansas City metropolitan area. We are your premier Kansas City resource for granite, quartz, quartzite, marble, and more! Contact us at 913-782-0802 or email at info@rocktopskc.com.
Designer: Buck Wimberly
Photographer: Nate Sheets
Stone Supplier: Daltile
Furniture: Huppé