How to Pick Your Kitchen Countertops in 5 Steps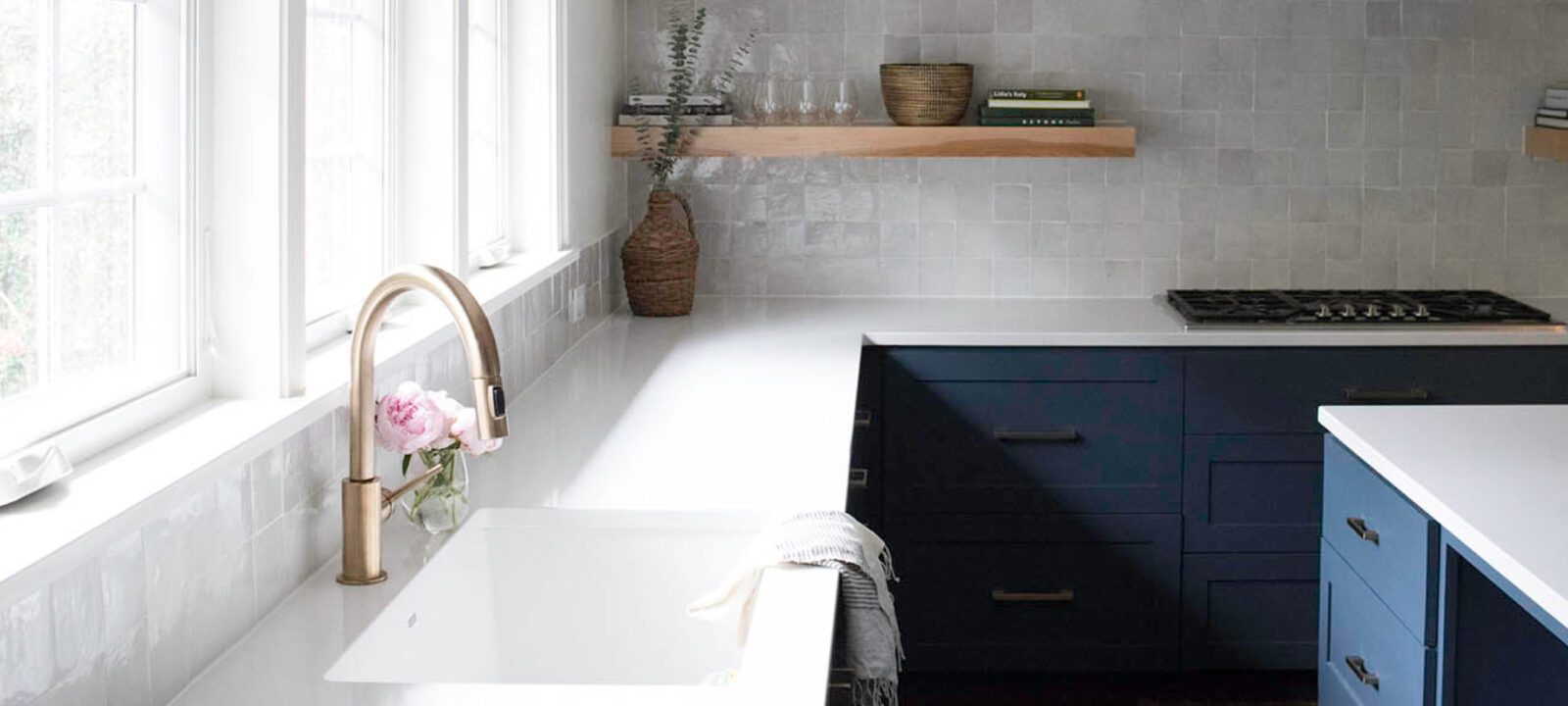 Countertops are a focal point of your kitchen. And with so many options available, it's important to do your due diligence and choose the material and style that's the best fit for your space.   
 So, where should you start? We're sharing the five steps you should follow when picking out your perfect kitchen countertops, with insider tips on narrowing down your choices and finding the right fit for you and your home.   
Step #1: Set your countertop budget 

 
It's important that you know how much you have to spend on your countertops before you set foot in a showroom. Determining your budget ahead of time ensures that you don't overspend. It also gives you an opportunity to research your options and figure out what the most affordable choice is for the look you want.   
Tips:  
Have realistic expectations.

Countertops are one of the bigger investments you'll make during a kitchen remodel or build. When setting your budget, consider not just material but fabrication and installation as well, and make sure to balance out your spending with the other features you need to purchase for the space.  

 

Be aware of price points.

Material with more veining is desirable for a lot of people, and will therefore often come up at a higher price point. As you consider your ideal countertop, make sure that you understand where you should set your expectations on cost. 

 
Step #2: Know your style 
You want your countertops to complement the style of your home, rather than stand in stark contrast to it. That doesn't mean you can't use your countertops to update your interior aesthetic, but do keep in mind some key defining features like color palette and overall design style.   
Tips:  
Take a style survey.

Do a quick survey of your space and identify the defining characteristics you see. Is it bold colors and clean lines? Then a modern, solid countertop surface like

Cambria

could be the way to go. Muted tones and cozy furnishings? You may want to opt for a warm granite to pull out those homey features. 
Step #3: Define your lifestyle needs 
Marble countertops are a stunner… unless you have little kids spilling juice on their porous surface. And a butcher block? It can certainly add to your space, but requires a lot of maintenance you might not have time for if you're juggling a super busy schedule. All of this is to say that aside from style, your kitchen countertops also have to match up to your lifestyle. This means you'll want to know ahead of time what you're looking for in terms of durability and maintenance.   
Tips:  
When in doubt, go low maintenance.

Low maintenance countertops made from a material like granite resist staining and can withstand high heat, making them a great choice for family households, busy households, and home chefs.  

 

Natural vs. man-made.

Talk to your showroom specialist about man-made options in addition to natural ones. Some man-made options are more affordable than their natural alternatives and are great at resisting stains from acidic foods, though they might not hold up to heat as well.  

 
Step #4: Head to the showroom 
It's always a good idea to look at your countertop options in person. And since your countertops are something you'll be using (and looking at) every day, you should definitely carve out time in your schedule for a thorough showroom visit. A specialist will be able to walk you through all of your best options based on your budget, your style preferences, and your lifestyle. They'll also be able to give you expert insight that you won't be able to get anywhere else, plus helpful tips for stretching your countertop budget as far as it will go.   
Tips:  
Bring samples of your other kitchen finishes.

You want your countertops to seamlessly fit in with the other design elements in your kitchen. To make sure they do, bring along samples to compare to slabs of stones, including samples of your cabinet doors, backsplash, paint color(s), and kitchen flooring. Don't have physical samples? Bring along pictures of the space instead so the specialist knows exactly what you're working with.  

 
Have a layout with measurements ready to go.

Be prepared for your showroom visit by bringing along a layout of your kitchen, complete with countertop measurements. This tells your specialist how much stone you'll need, which is key for pricing out your project. It's also handy for determining where seams in the countertop might go, which helps with the overall design aesthetic.  

 
Step #5: Choose a reputable installer – Such as Rocktops!
There are a lot of things that the average homeowner can confidently DIY, but countertop installation isn't one of them. It takes training, skills, and a lot of experience to install heavy countertops, and the process has to be done right for safety and durability purposes. A qualified, reputable countertop installer will be able to ensure that your countertops are installed properly and without any damage or mishaps, and it's worth setting aside room in your budget for installation so you can make sure you're satisfied with the end results.   
Tips:   
Look at references and reviews.

Whether you're looking to hire an independent contractor or are planning to have your countertops installed by the people you bought them from, ask for references to get a feel for the quality of their work and check out their online reviews too. (We'd love for you to

check out our reviews

if you're considering Rocktops for an imminent project!)

 

Get a written estimate.

A written estimate is a must, and will help minimize the chance of sticker shock later on. In addition to setting out clear expectations on price, it will provide a line item description of the selections and services you have chosen for your project.

Ready to start shopping? 
From marble and quartz countertops to granite and quartzite, Rocktops has all of the options you need to bring your vision for your kitchen to life. Get professional help with making your choice and book a showroom visit to get some in-person inspiration. Rocktops fabricates granite, marble, and quartz for kitchens, bathrooms, patios, and fireplaces, and is proud to be your Kansas City resource for stunning stone countertops! Contact us at 913-782-0802 or email us to get started on your kitchen project.