Bargain Mansions – Season 3, Episode 1

Rocktops is always so honored to work on amazing projects and having the opportunity to work on Bargain Mansions. We had the pleasure of being asked to be a part of the Kansas City countertops process of Season 3 on HGTV, as we've worked on Season 1 & 2. We love working with Tamara Day and her amazing team! Check out this beautiful home transformation that we're proud to be a part of.
This neoclassic colonial house is located in Kansas City, Kansas and was built in 1918. In short, the bones of the house were very strong which made it an amazing home for Tamara Day to work with. The main goal was to modernize it while preserving the elegance. 
KITCHEN
We start off in the kitchen! Beautiful Kodiak Quartz tops from Daltile. The kitchen was such a fun transformation because it was in really decent shape but desperately needed a touch of style. It's amazing what fresh paint can do! Since it's not the largest kitchen ever. Tamara added color while also keeping it light and airy, and went with the gorgeous green color for the lower cabinets to make a bold statement but balanced that with the white uppers. She kept the countertop very clean and crisp, and chose this gorgeous backsplash tile because it has so much texture and just glistened in the space. The farmhouse sink was an upgrade for the space as well, tying everything together.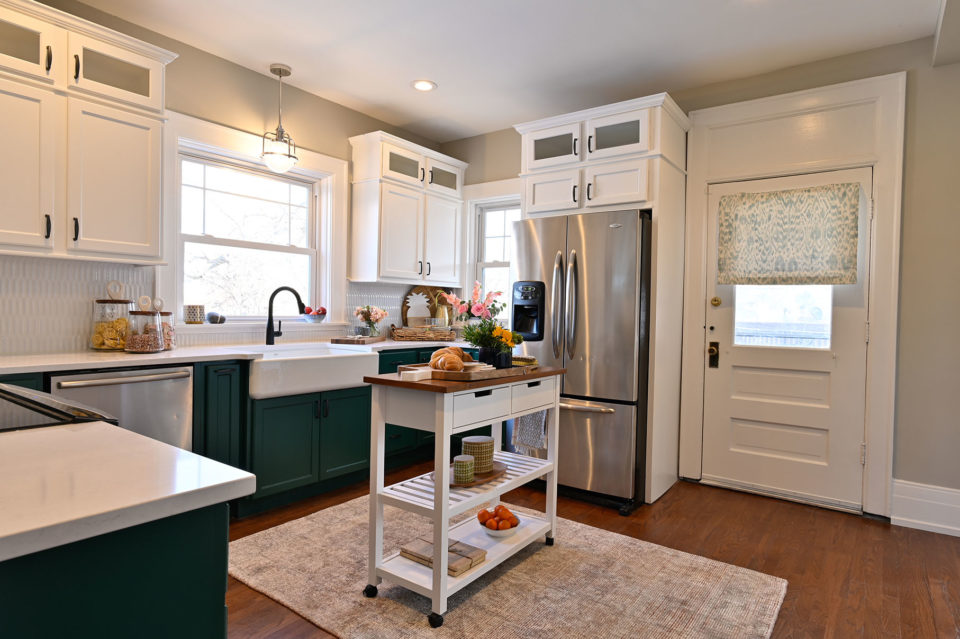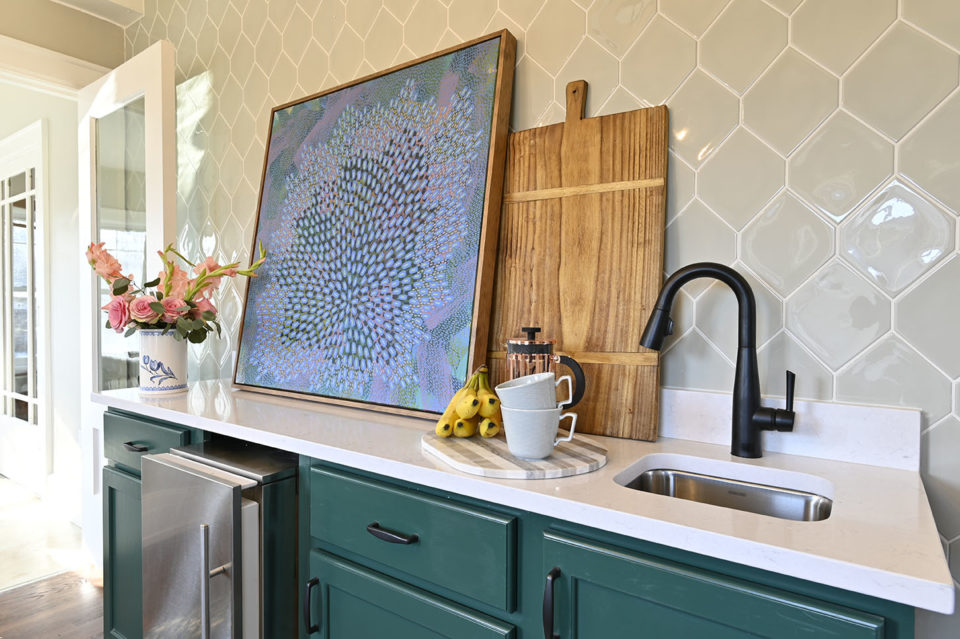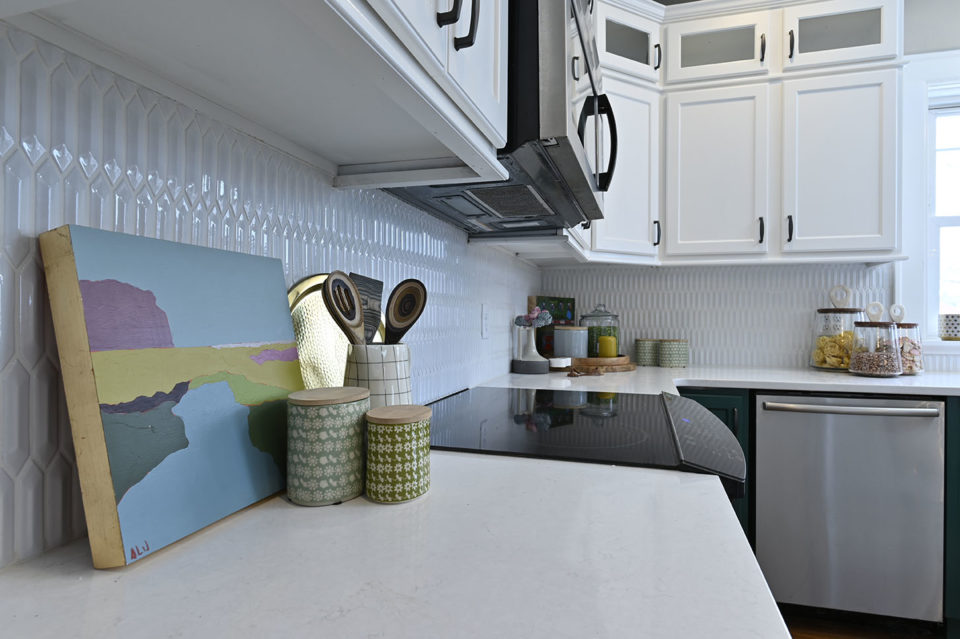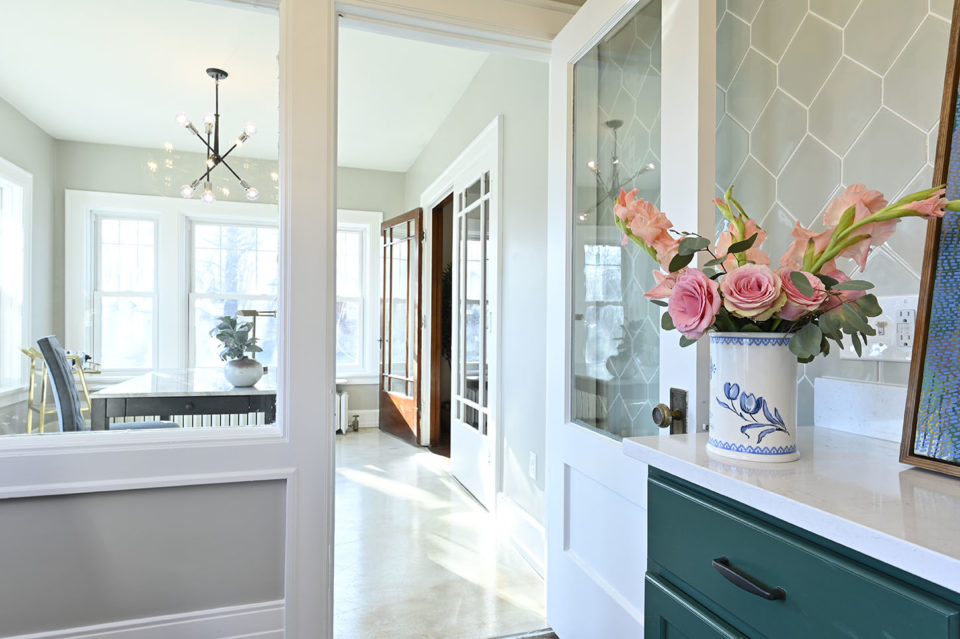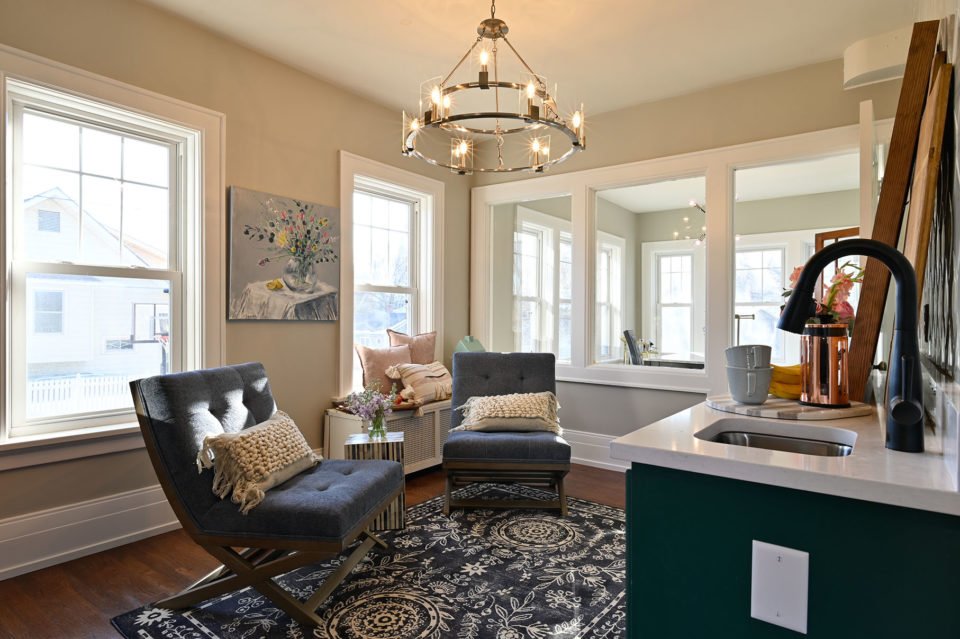 MASTER BATHROOM
We can't stop starring at this stunning master bathroom with Brushed Flannel Quartz with accents of Kodiak Quartz from Daltile. Tamara wanted to bring a little bit of a modern vibe to contrast the old-world textured feeling of the beautiful blue tile from the wet room so they did a custom floating vanity that had clean lines. The beautiful charcoal gray countertops anchor the space and the black fixtures tie into the black detailing around the shower. She carried the same marble tile that they installed as flooring under the tub, as a backsplash all the way to the ceiling. Lastly, they wanted to make sure there was tons of light and while the pendant lights are gorgeous, with the ceiling height here Tamara knew they wouldn't be enough light. You can't check out this bathroom without mentioning these gorgeous light pendants. They have both form & function in this space.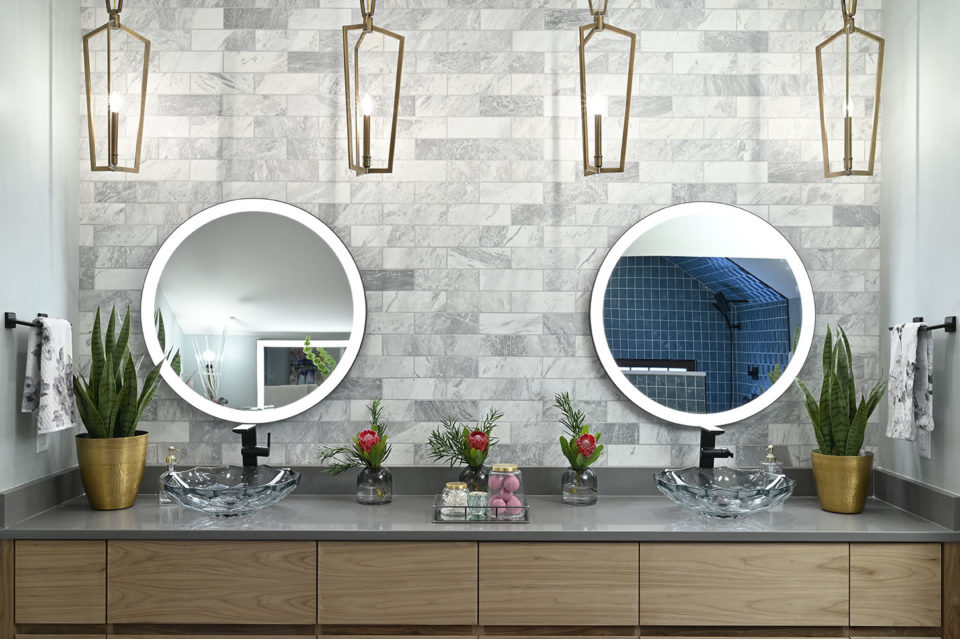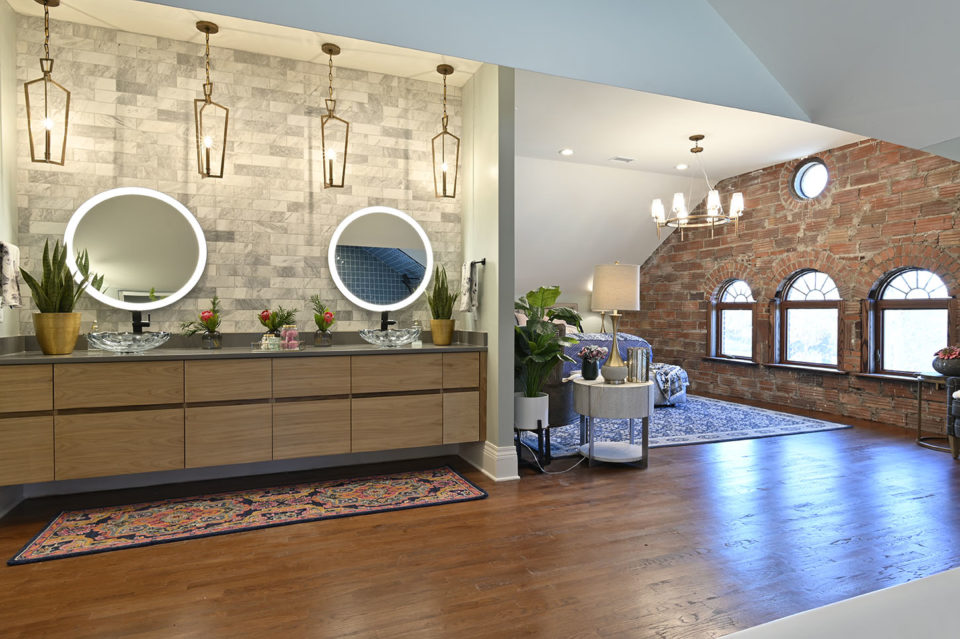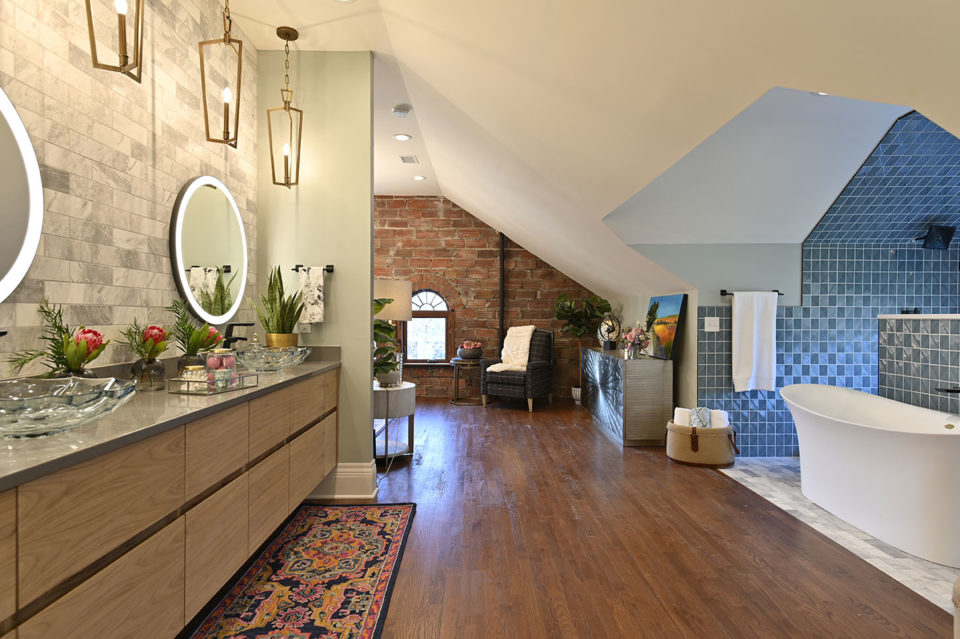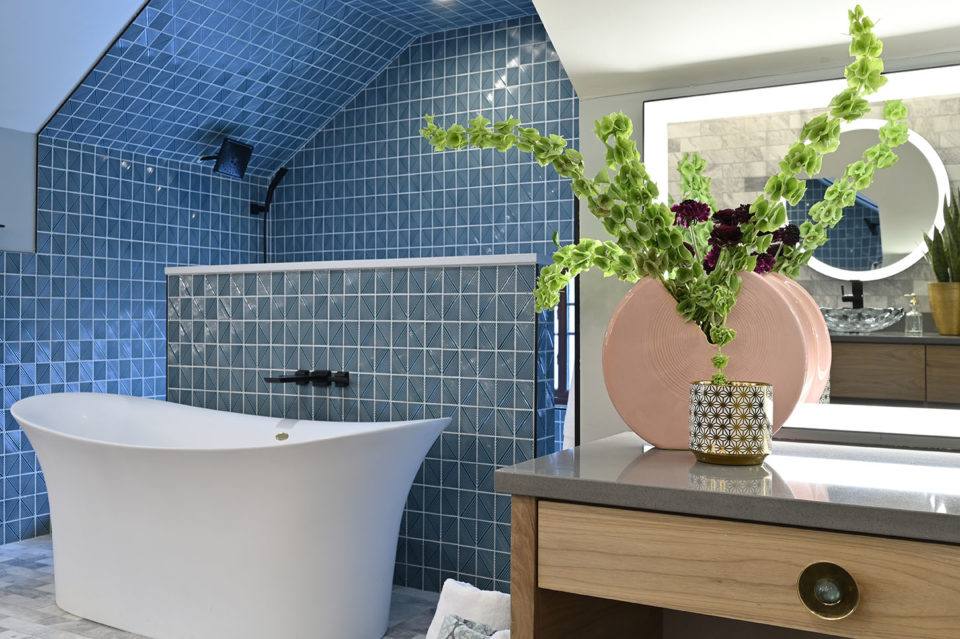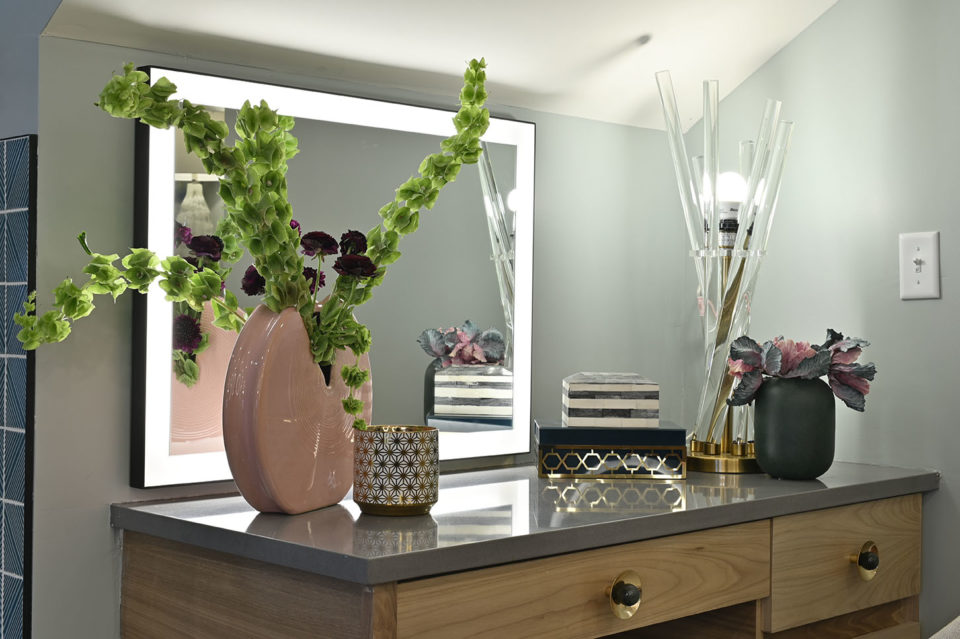 KID'S BATHROOM
The second-floor hall bathroom is full of color & fun. Tamara utilized the same gorgeous glass tile in two different colors and patterns. This tile was a favorite because it has a beautiful iridescence to it. She loves a good herringbone tile and the backsplash tile is no exception. They went a little further and did a double-stacked herringbone. For the base of the vanity, check out the custom stacked trim, painted it a fresh white which contrasted the charcoal gray countertops, and added the show-stopping Addison Weeks hardware.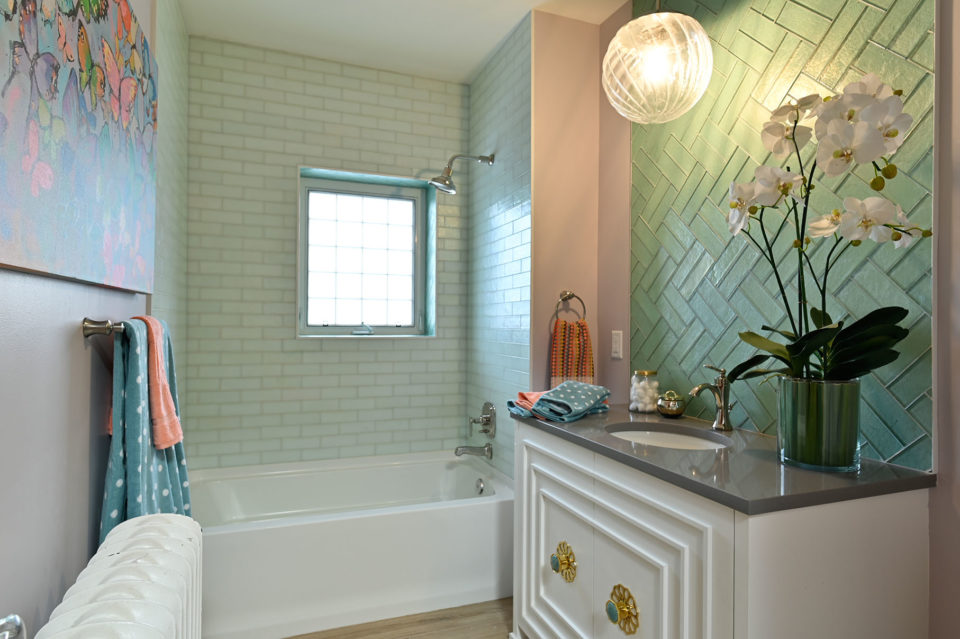 Are you ready to rock your home? For more information on granite and quartz countertops in Kansas City check out our website at RocktopsKC.com, or better yet, visit our showroom and get inspired. Rocktops creates beautiful kitchen and bathrooms throughout Johnson County and the Kansas City metropolitan area. We are your premier Kansas City resource for granite, quartz, quartzite, marble, and more! Contact us at 913-782-0802 or email at info@rocktopskc.com.