Livin' on the Edge of your Countertop

Let's Get Edge-y!
We all know how big of an impact different stones can have in our space. But we want to talk about another style-changer: the edge of your countertop. Once you've chosen a stone, the next step is to choose an edge profile.  It may feel like a minute detail and can be easy to overlook, but it can have such an impact on not just style, but functionality and safety.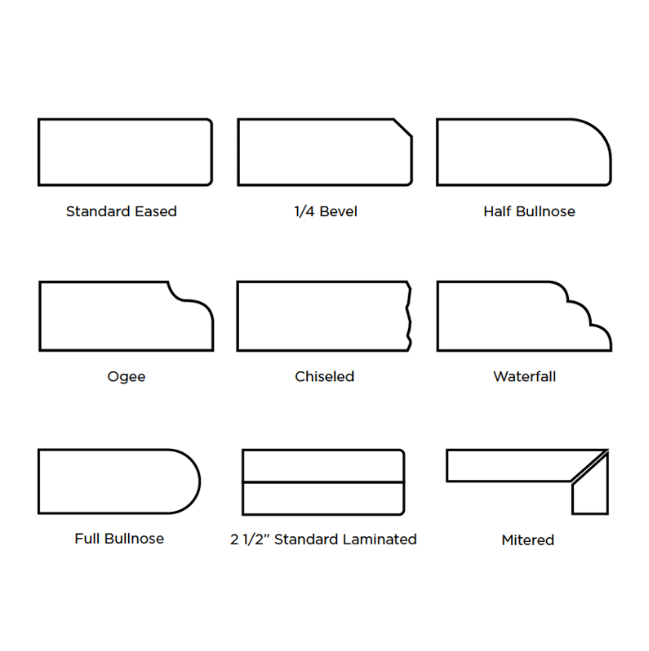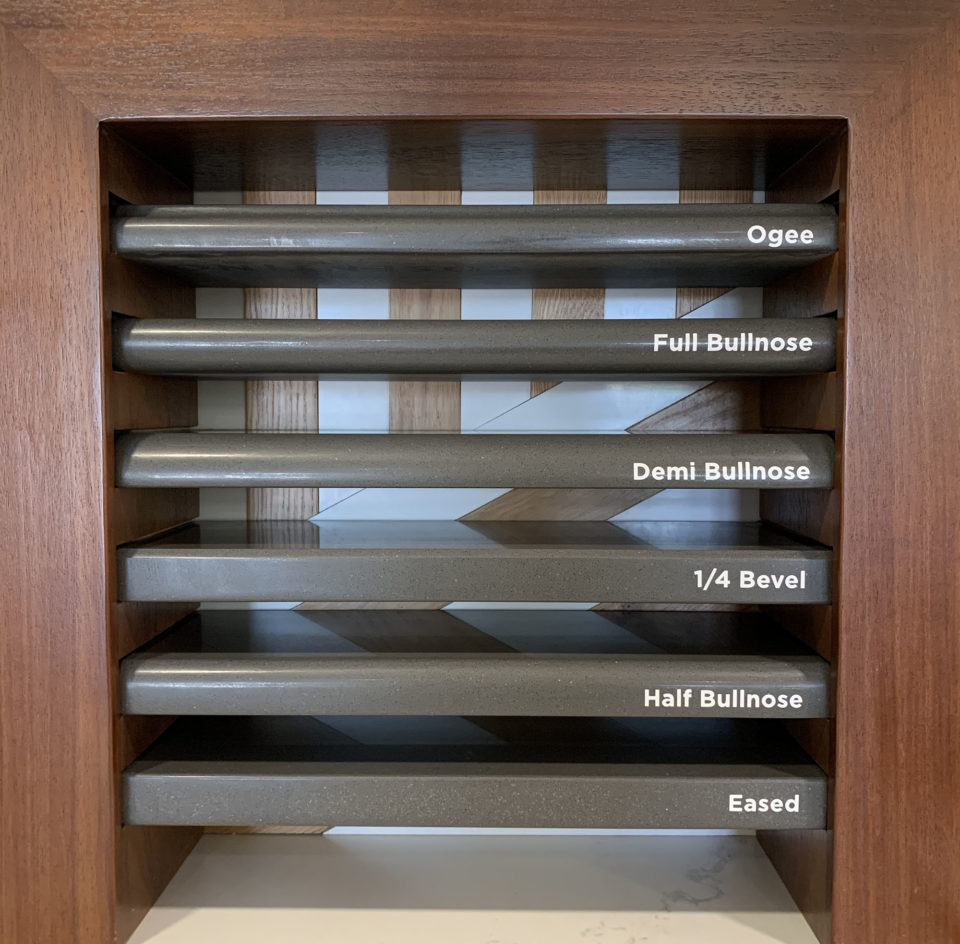 STANDARD EDGES FOR YOUR COUNTERTOP
Standard Eased
A common countertop edge profile but it is simple which gives an elegant and thick look to your space. The standard eased edge is the more simple and classic choice for your countertops.

1/4 Bevel
The 1/4 bevel edge is a 45-degree angle edge that slopes downward. It's a subtle way to bring elegance to your tops. The angle catches the light, bringing brightness and a more luxurious feeling to the space.

Half Bullnose
The half bullnose is rounded on the top but rounded on the bottom. The way this edge is created allows for the emphasis of the thickness of the slab and highlights the veining of the stone.

UPGRADED EDGES FOR YOUR COUNTERTOP
Ogee
This upgraded edge is classic yet decorative that does pair very well with the traditional style of a kitchen. This may be a beautiful edge but maybe on the more difficult side to clean.

Chiseled
A chiseled edge is on the more "edgier" side for it's unique, not one chiseled edge is the same giving the feeling that it was left in its natural state.
Waterfall
A waterfall edge adds drama to your space. With the waterfall effect, the slab overflows from the countertop and extends to the floor. This effect provides a clean and modern effect to your space.

Full Bullnose
A full bullnose edge takes out all angles to your tops, rounds out all of the sharpness into a semi-circular edge profile. This versatile edge can blend in with any design your heart desires.

2 1/2 Standard Laminated
Much like the mitered edge, the 2 1/2 standard laminated edge is one that has two pieces of stone stacked on top of each other to give the illusion of a thicker stone. With this edge, it is typically chiseled (to hide the seam) so you're really getting two edges in one with this choice.
Mitered
A countertop that has a mitered edge gives off the illusion that your tops are thicker than they actually are. The beauty of a mitered edge allows for your countertops to be the focal point of the space.
Are you ready to rock your home? For more information on granite and quartz countertops in Kansas City check out our website at RocktopsKC.com, or better yet, visit our showroom and get inspired. Rocktops creates beautiful kitchen and bathrooms throughout Johnson County and the Kansas City metropolitan area. We are your premier Kansas City resource for granite, quartz, quartzite, marble, and more! Contact us at 913-782-0802 or email at info@rocktopskc.com.