From weeknight dinners to family gatherings, the kitchen is the heart of the home. We spend a great deal of time in our kitchens, plus it's often the first room guests see. For these reasons and so many more, keeping our kitchens up-to-date and stylish is more important than other rooms in our home. One major element that gives you a place to express your unique style is the kitchen island. Let's explore the various options you have when dreaming up your kitchen island.
Island Sides
Often times the first view of your island you, or your guests, will see is the side. Given this fact, the side is the ideal place to show your style. The sleek style of a waterfall dropdown lets your stone shine! It's important to pick a stone you love for this modern and minimal look. If you prefer a slightly more stylized look, adding legs to the island is a great choice. Legs can give your cabinetry a chance to stand out or perhaps a fun way to add additional material to your kitchen such as metal. For those with a more utilitarian view of the kitchen, the addition of shelves to the island is not only useful but beautiful. While those who prefer a traditional look and feel may enjoy a stylized kitchen island with a mitered edge.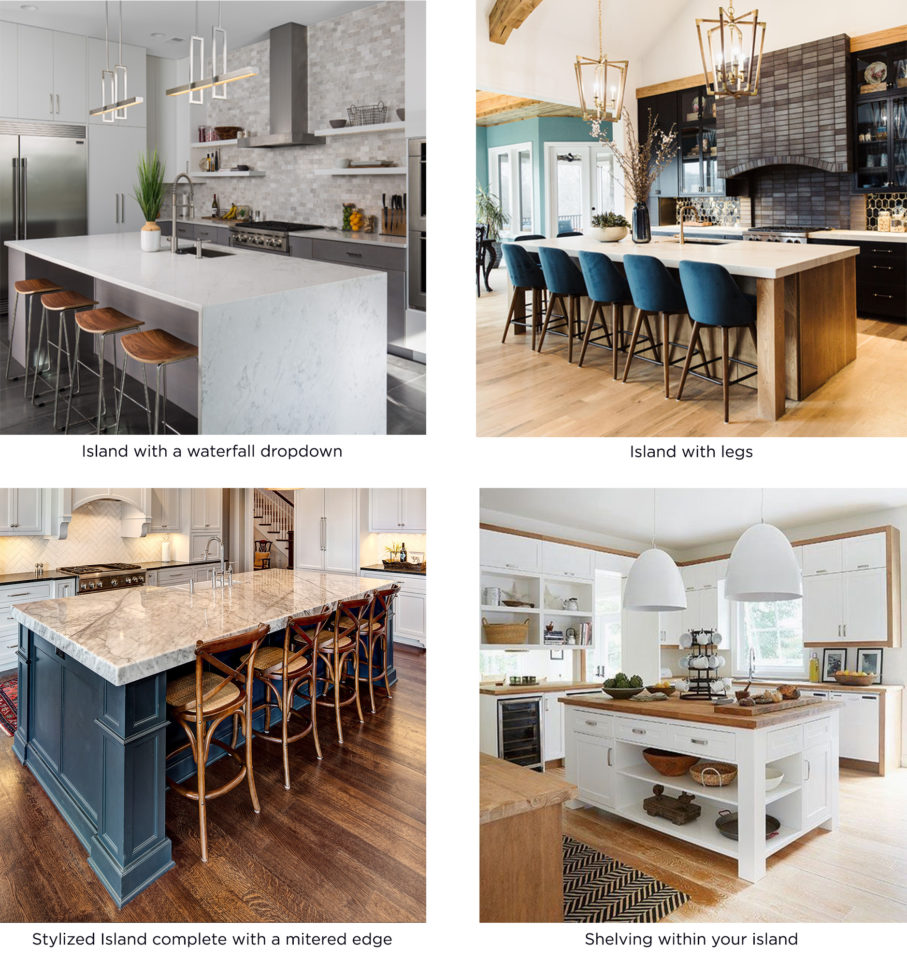 Raised Bar… or not
Many of our clients love the look of a flat, one level, island. But for some, the raised bar wins every time. When considering a raised bar top on your island, it's best to think about the bar location as well as how your family lives. Do the kids do homework at the island but you still need functional items like a sink or cooktop within it? Then a raised bar may be an ideal design element for your kitchen. The kids can work on the bar level while you cook or prep food below.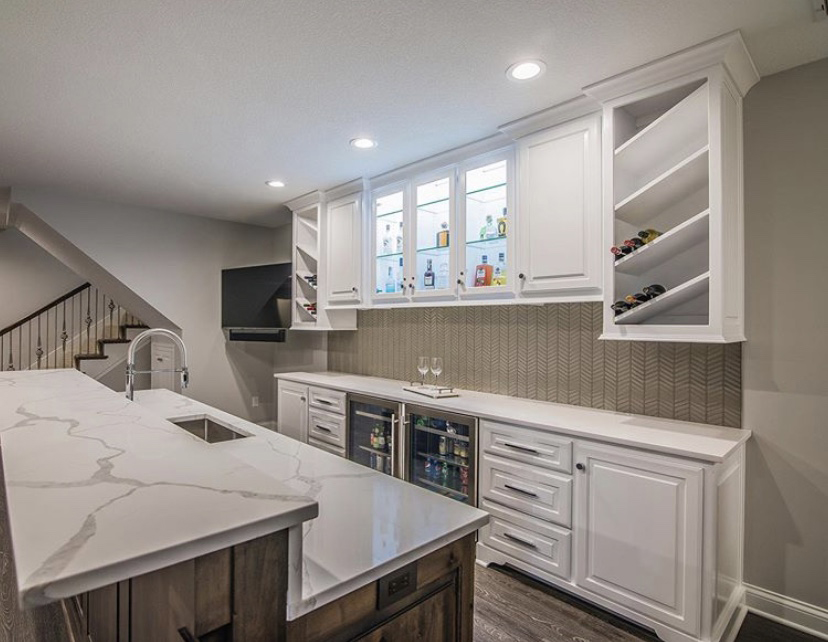 In Island Features
For some, the kitchen island countertop can be a glorious solid stone masterpiece, for others, the space available and layout of their kitchen requires the island to have form and function. Our clients throughout Kansas City have chosen a variety of features within their island. Do you love a large food prep area but need a sink nearby? Adding one to your island would be ideal. Same for a cooktop. Is your preference to spread out large crafting projects or to showcase centerpieces? Then an island without any cutouts is ideal for you!

Seam, It Doesn't Have To Be a Dirty Word
Do you like living on the edge? Are unique design elements your thing? Then perhaps consider using your seam as one! A new trend we are seeing here in Kansas City and beyond is the use of mixed materials and showing off a seam in your kitchen island. This is a beautiful way to mix materials such as stone (granite, quartz, marble and more) with the warmth of wood. Chose a stone that plays well with the tones in the wood you love and showing off your seam will be something your guests will love!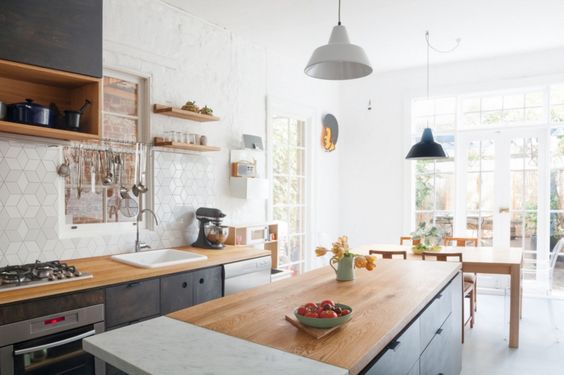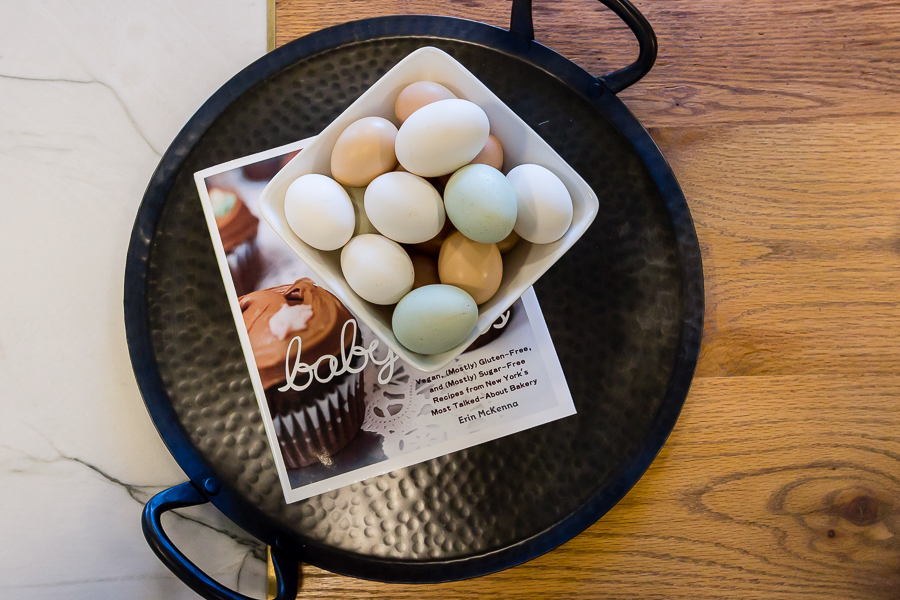 Island Chairs
So you've worked with the Rocktops team to create an island that's the perfect mix of cabinetry and stone. Now what? Add the cherry on top with gorgeous seating. The selection of chair at your kitchen island is another way to show off your style. Stools and mid-back chairs can often sit beneath the countertop and not in the way visually or physically. High back options are a delightful way to add in a pop of color or perhaps another fabric. Extra bonus, many guests find a higher back chair more supportive for those long coffee chats the island always welcomes.

Whether your style is ultra-modern or rustic chic, a kitchen island is a perfect way to add working space, and family space, to your home. Top it off with Kansas City's best countertops and you'll be begging to host all of this year's events!
For more ideas and inspiration to rock your home, read more of our blog posts, or come into our showroom and get inspired. Rocktops creates granite, marble, limestone for kitchens, bathroom, patios, and fireplaces. We are your Kansas City granite, quartz, marble, and quartzite resource! Contact us at 913-782-0802 or email at info@rocktopskc.com.