Trends, Offerings and Observations: Kitchens 2020

The trends of the present are composed as a result of, movements and moments from yesterday that never lost their direction. We remain inspired and influenced by the impact these legacies still have on design today, tomorrow, and…
That kitchen island: Consider. Conceive. Create. Celebrate.
When considering kitchen designs, one of the elements that is getting much deserved and "it's about time" attention and design reconsideration, is that oh so important kitchen island. When a kitchen has ample space and the idea of an island is beneficial to the form and function of the project…I say go for it! The potential and possibilities to elevate this piece to new and unexpected levels are not only numerous but very exciting!
Without a doubt, once a conversation is started, and design is conceived the final creation should remain cohesive and a relevant partner to the surrounding flavor and personality of the project. This use of similarity is used to tie together elements that might not be right next to each other in the space. Consequently, that island design can stand out "in the crowd", but just doesn't have to be the twin sister that sits in the middle of the kitchen, anymore.
This is a blank canvas. Take another look at the scale, orientation, materials, style, and function. Seek inspiration: perhaps from a favorite piece that already exists in your life. Explore images and look to the past for fragments of design that seem relevant and appropriate for the project. If some or all of these initial steps get overwhelming, then consider hiring a designer that can offer up a second set of eyes and ears for you. Their strength and purpose are to develop a creative yet congruent design… one that you may not know you even wanted. The end result is to be able to celebrate what was once only perceived and is now an actuality.

Form + Function: Countertops + Beyond
Natural stone + Engineered Stone
Experiencing the galaxy of industry options for potential countertop candidates is an incredibly visual, tactile and informational journey. Listen, learn and trust during this journey. The diversity and variations of each material possess perceptible distinct personality attributes as well as possessing varying degrees of function, feasibility, and purpose. Get to know them well…the relevant and fitting selection will become obvious. Be discerning: their personalities and characteristics can be just like people…choose wisely and eliminate those that seem contrary or inconsistent to project criteria.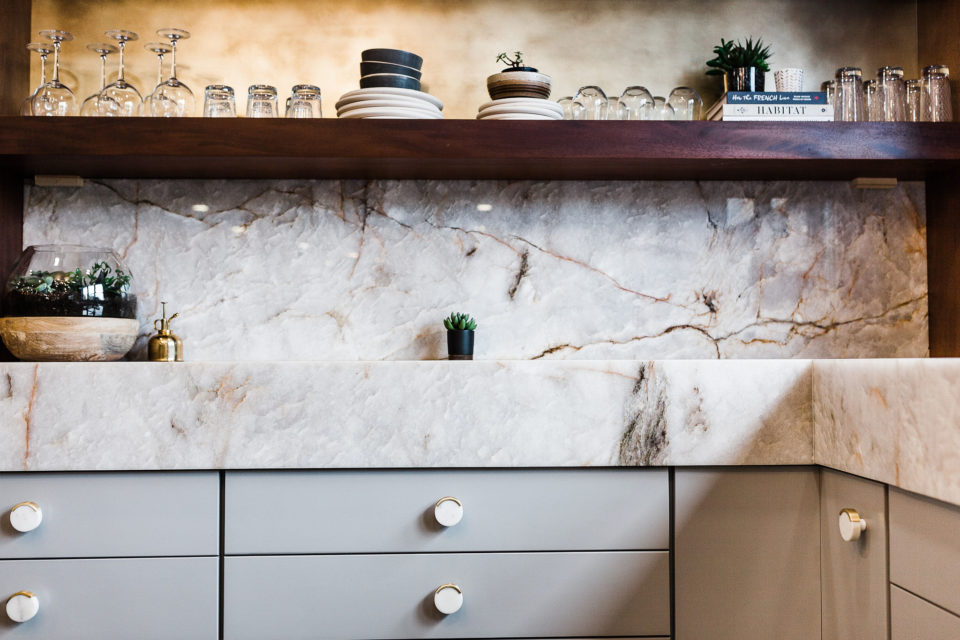 Backsplash areas: Open your mind + expand the view
In considering and developing the design and cabinet layout, does it work to expand and broaden the presence of the countertop material up onto the wall's backsplash area, as a vertical extension of the countertop? Viewing the material in this position speaks to a graceful, visually smooth and uninterrupted installation.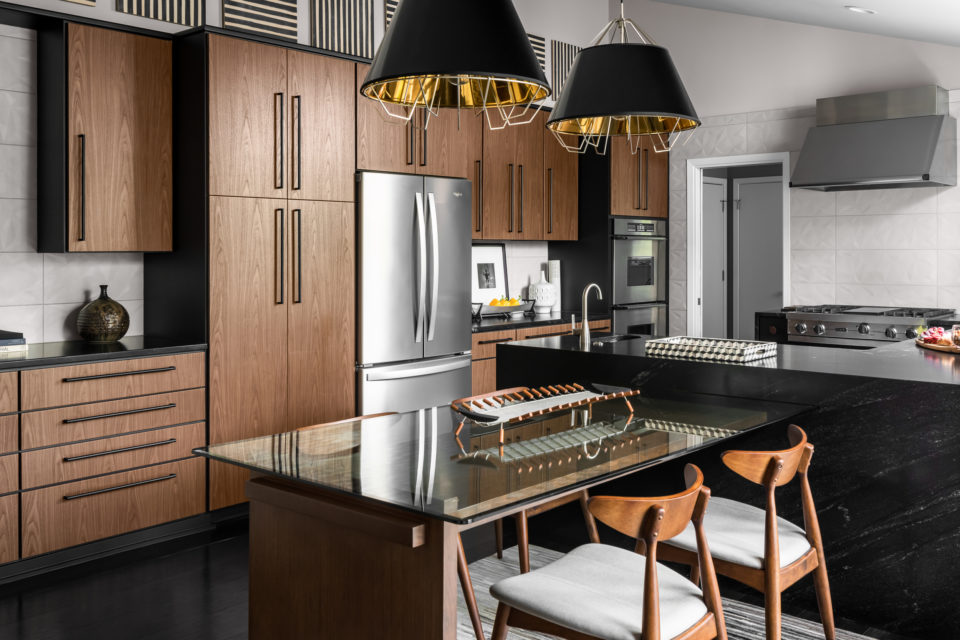 Waterfalling:
Considering the design and cabinet layout once again, imagine expanding and implementing the use of the same countertop material by carrying it down onto the side surface of an unfinished base cabinet. Physically and aesthetically cascaded downward from the countertop to the floor, framing and wrapping the base cabinets with visual strength and architectural integrity.
For even more visual dynamic impact, once again carry the same countertop material down the back of an entire bank of unfinished lower cabinets. In most instances, this installation would be done on the back of an island or peninsula. The end result emits a powerful yet graceful harmony to space. There are actually a few unnamed individuals out there, who are known to have physically hugged a waterfall installation.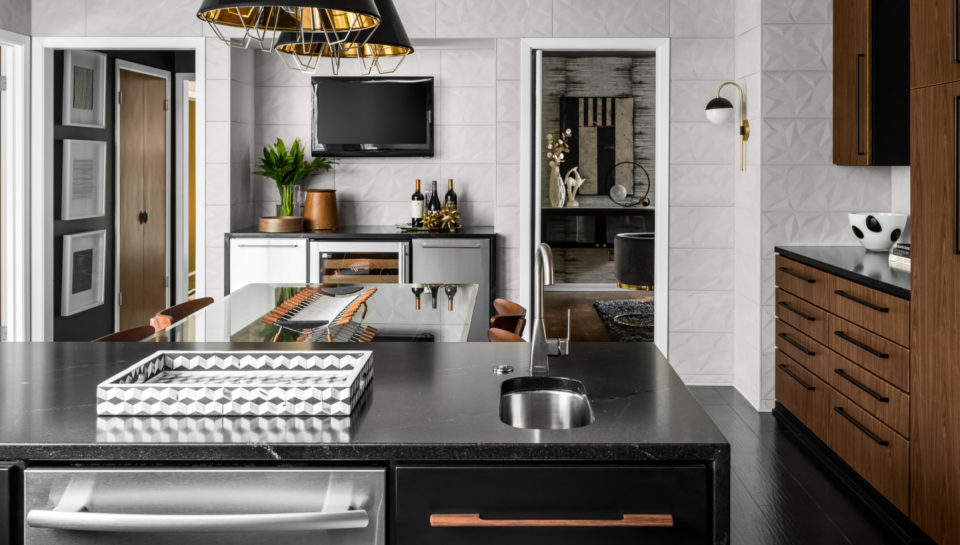 Those sexy edges:
A typical and prominently used, square or eased edge profile height on a countertop is generally, 1.25". To visually enhance and augment that scale, mitered edges can be created for this purpose. The presence of mitered edges has, over the years, gained a lot of strength in industry exposure. Through forward-thinking creatives and innovative designers and doers…the industry is now producing edges with evolved scale and unique design characteristics and purpose.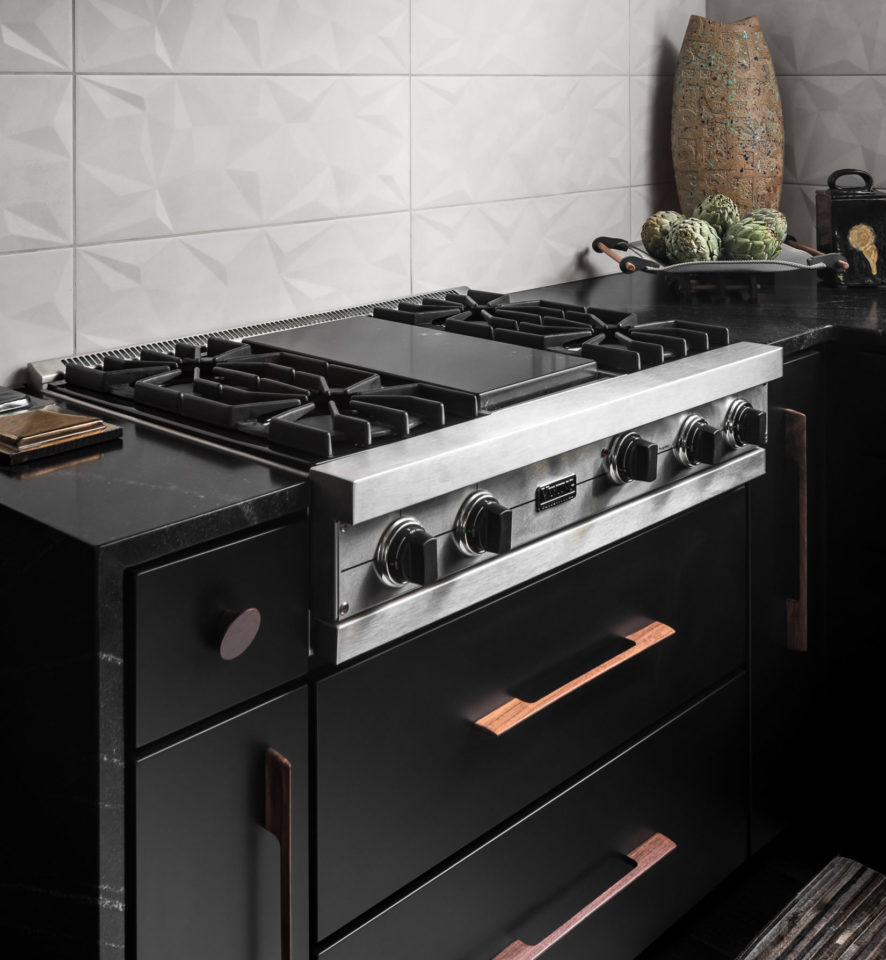 e
Not just another brick wall.
The vast variety of large format tiles available in today's market just gives me goosies. These far-out and amazing products, are seen and applicable in a jillion of materials, sizes, shapes, and dimensions. What once was considered large, like the 12 x 24-inch tile, now seems industry standard. The popularity of a more seamless and simpler presence is capturing more and more attention and being sought after as a fresh approach and alternative.
A favorite and ongoing, method of operation (obsession) for me is to expand the expected and usual boundaries and frontiers for any given tile installation. When it comes to kitchens and when it comes to large format tile, there is no exception to this rule. Push past the perimeters and confines of that backsplash area, jump to new heights and sink to new lows when exercising innovative ways of thinking…
"The space that is the kitchen requires unity!"
The dynamics and appeal of installing products in multiples and on a large scale, appropriate to the size of the space are ultimately one of the more impactful details that should be considered. THE SPACE THAT IS THE KITCHEN REQUIRES UNITY. I cannot say that loud enough!! There are so many visual breaks with all of the elements, materials, surfaces, structures, and objects in this room. This can create a visual challenge for fluidity and continuity. " The human eye follows paths, lines, and curves of the design, and prefers to see a continuous flow of visual elements rather than separated objects".
All of these things are such a small slice of what can be seen, heard, touched and discussed. The takeaway here is that we are being offered and exposed to perpetual and ever-expanding options, materials and products. They are inspirational. They are innovative. They are meant to be a temptation of our sense of creativity and imagination. They are meant to be the seed that we can plant to be the next trend…
Appreciations, curtsies, and cheers to RocktopsKC.
Written By: Ann Arkebauer
Click here to view more of Ann's amazing work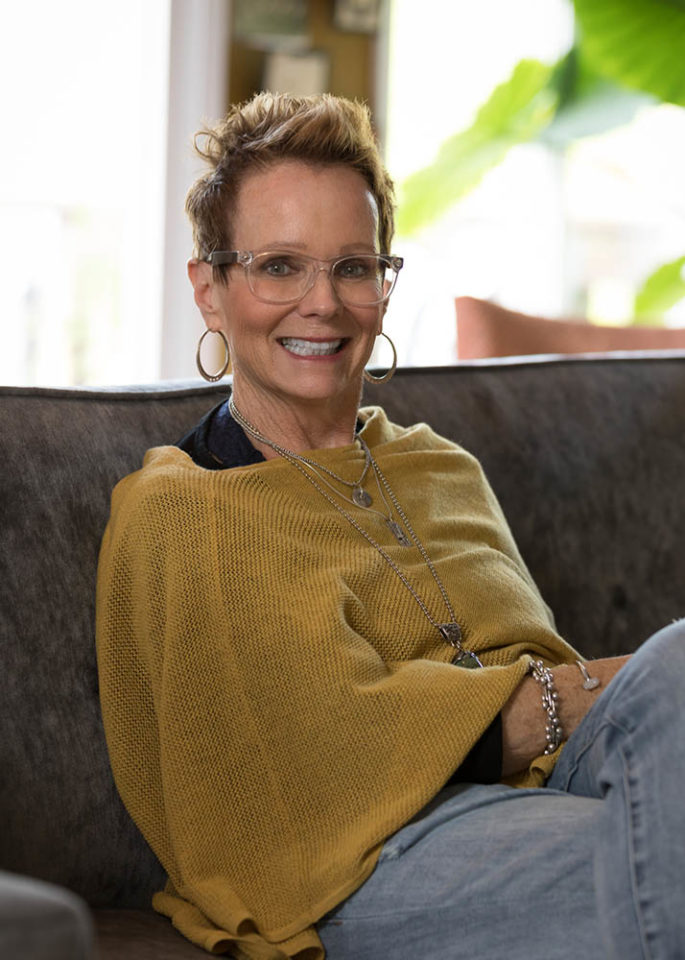 Ann Arkebauer is a Kansas City-area interior designer and artist. For more than 30 years, Ann has worked with families, individuals and businesses to elevate their spaces, and take a little design risk along the way. Whether you're into modern edginess, classic timelessness, or a personal style not formally identified, Ann can help you get the look you want – or maybe the look you didn't even know you wanted!