Homes That Rock – Rocktops pt. 1

We are back with another home tour and we can honestly say that this one is for the books. This is only part one of this incredible home tour so be on the lookout for part two. If you love Marble then this is a blog you will want to stick around for. Let's jump right into the tour.
Kitchen
This kitchen is all about sophistication. There were so many details that went into this home and as a result, we get this piece of art. The black cabinetry goes perfectly with the veining on the Arabescato Marble countertops. On the island, they went with a waterfall edge. One detail that is totally unique is the chiseled edge in the middle of the island. We haven't seen anything like it but we sure hope to. The gold hardware adds yet another fun detail. Let's not forget about the wooden hood range.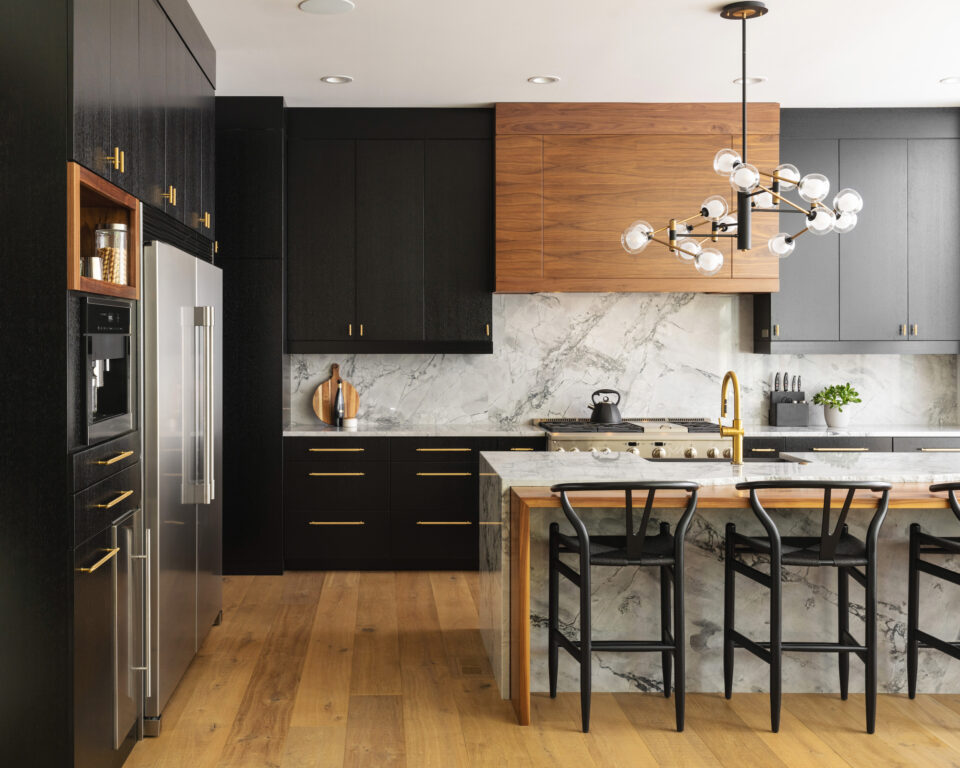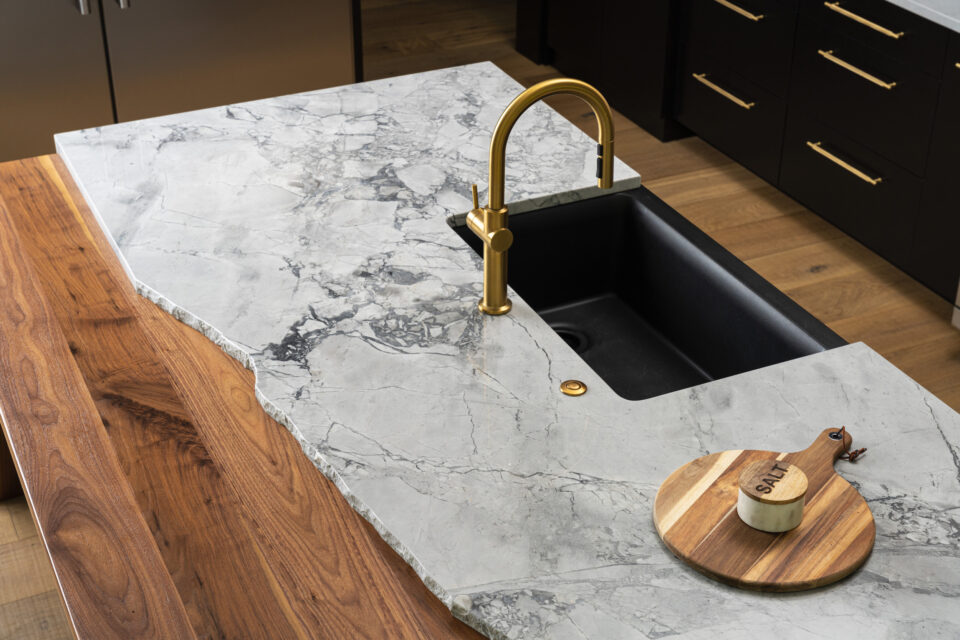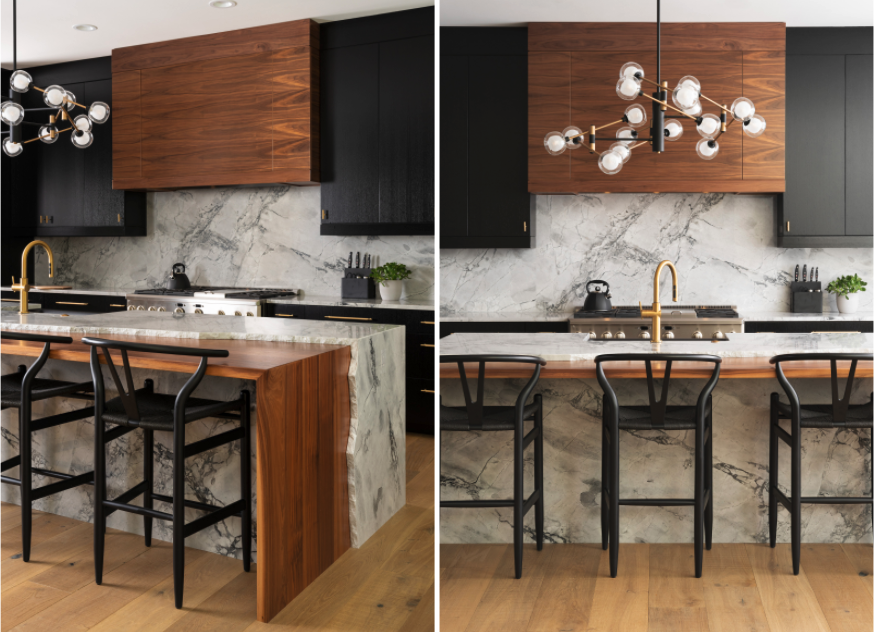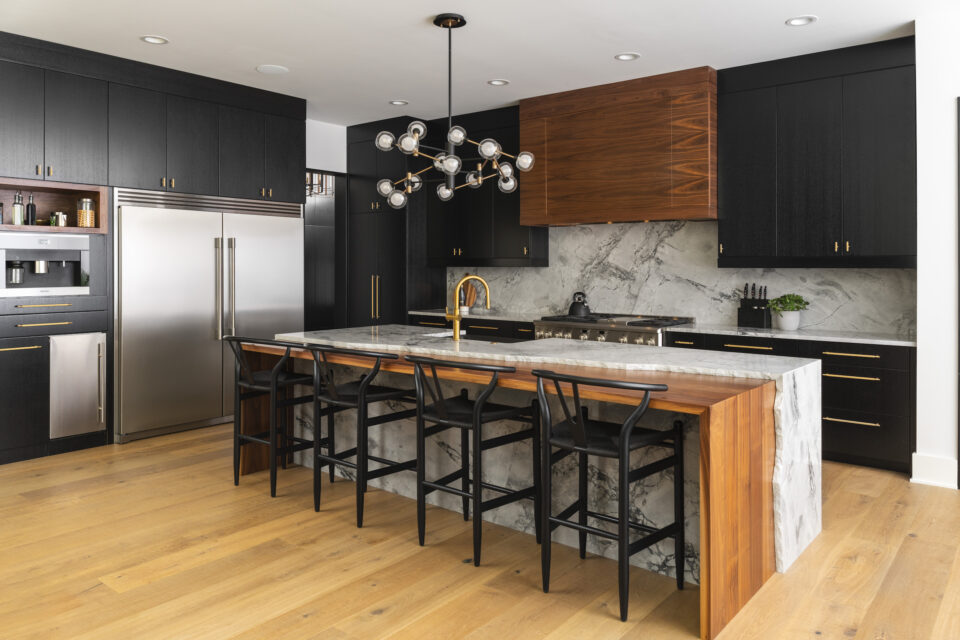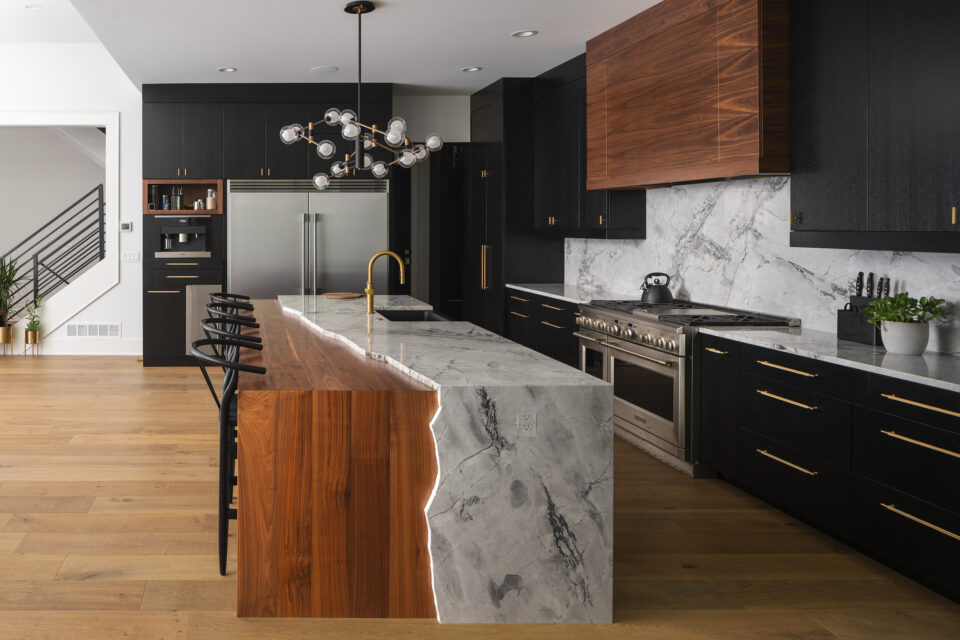 If you look closely at the image above you can see that the outlet cover is made from stone so it blends in. All other outlets are under the cabinets so you can't see them. So smart!
Butler's Pantry
The butler's pantry follows the same theme as the kitchen. The black cabinets again go nicely with the Arabescato Marble countertops and they went with an eased edge which gives you a very clean look. The wood shelves are also a nice addition to the space.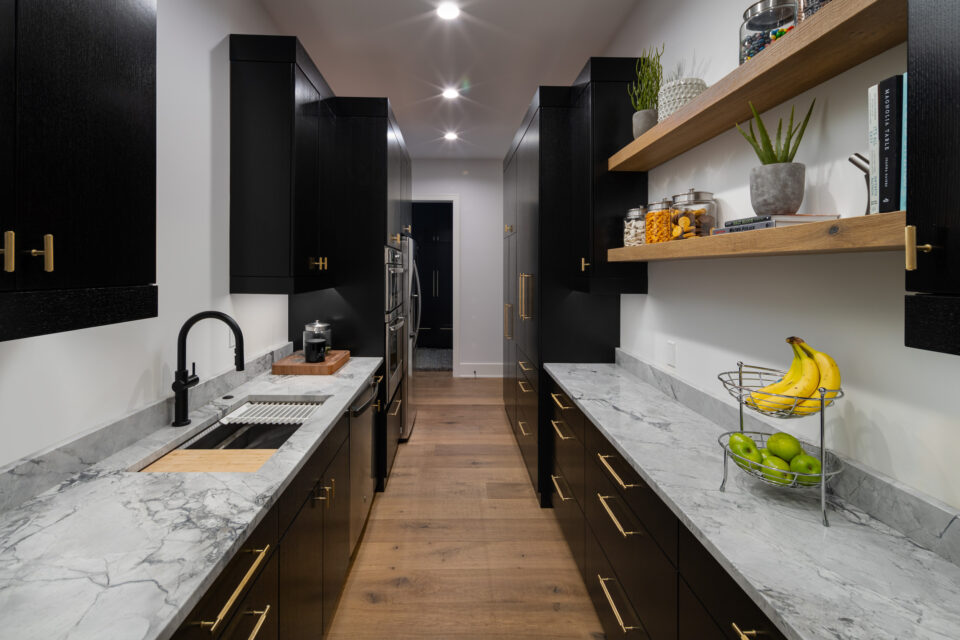 Fireplace
Everything in this home follows a color scheme of neutrals and we can see that in this room. The fireplace face is made from Dekton which is an ultra-compact material. The gold strips that break up the Dekton are a nice touch to bring in the gold from the kitchen. Lastly, the bench attached to the fireplace is made from Arabescato Marble and elevates the beauty of this space.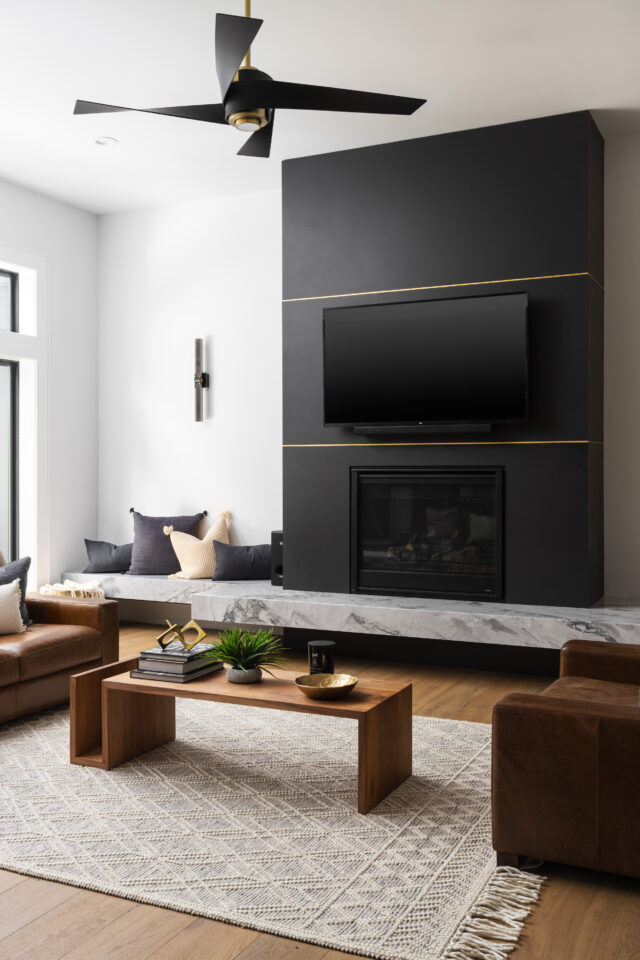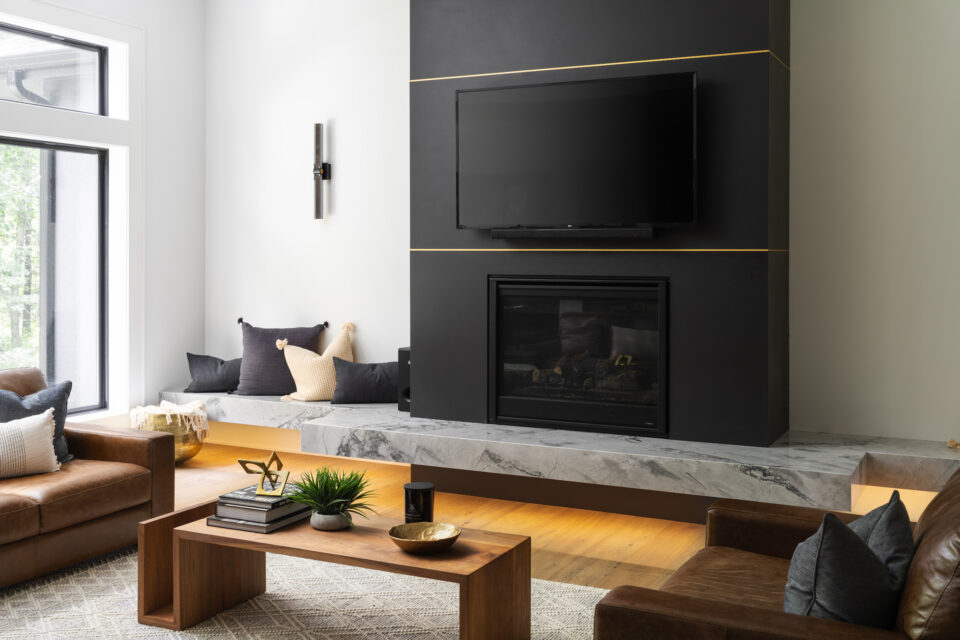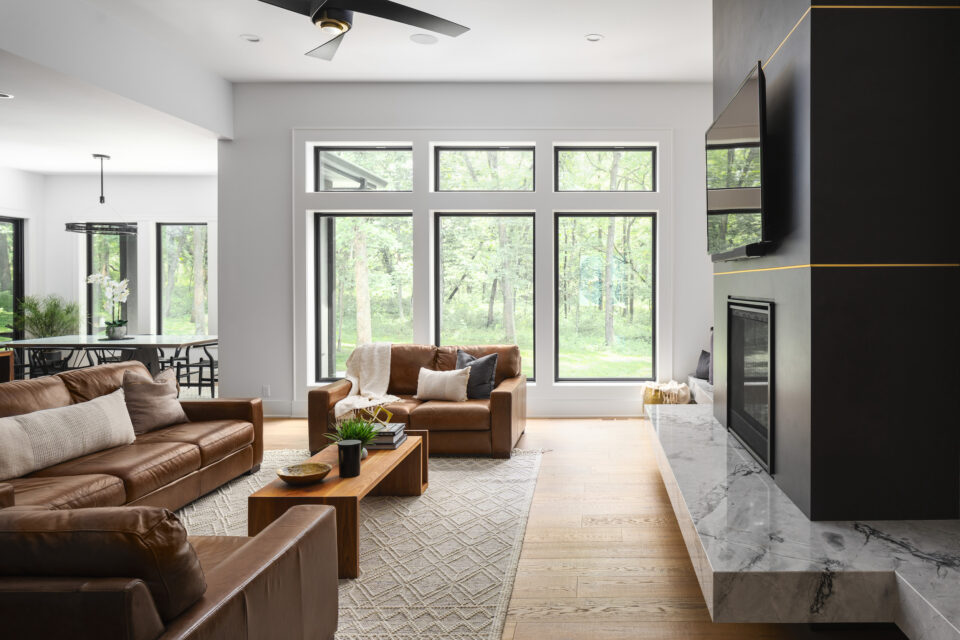 Powder Bath
This bathroom is unlike anything we've seen before and we are in awe. The Blue Roma Quartzite countertops and integrated sink totally make this bathroom. And again, they used gold hardware which is the perfect touch to tie everything together.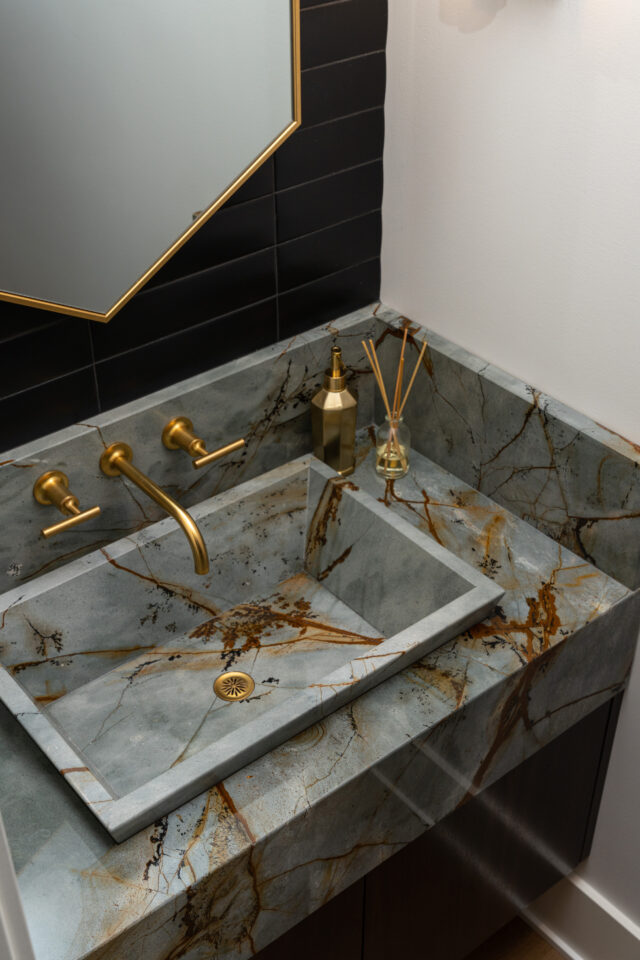 In short, this home tour is one for the books. This was only part one of this incredible home tour so be on the lookout for part two!
Ready to rock your home? For more information on granite and quartz countertops in Kansas City check out our website at Rocktopskc.com, or better yet, visit our showroom and get inspired. Rocktops creates beautiful kitchens and bathrooms throughout Johnson County and the Kansas City metropolitan area. We are your premier Kansas City resource for granite, quartz, quartzite, marble, and more! Contact us at 913-782-0802 or email at info@rocktopskc.com.
Check out our other homes that rock: Home Tours
Builder: Todd Hill Homes
Flooring: Total Design
Faucet: Kohler
Interior Designer: Jo Burg
Lighting: Wilson Lighting/ET2 Lighting Fixture
Cabinet Hardware: Forge Hardware
Stools: Amazon
Appliances: Factory Direct/Monogram/Miele/Frigidaire
Photographer: Matthew Anderson